Remember your loved one in our Hospice Village

The Hospice Village is a beautiful artwork which brightens our hospice reception area. It is seen by all who visit the hospice, and every one of its colourful glass houses, trees and landmarks is dedicated to the memory of someone's loved one. This poignant community artwork offers you the opportunity to add your own little memorial cottage to someone you have lost – and make a valuable donation to patient care in their memory.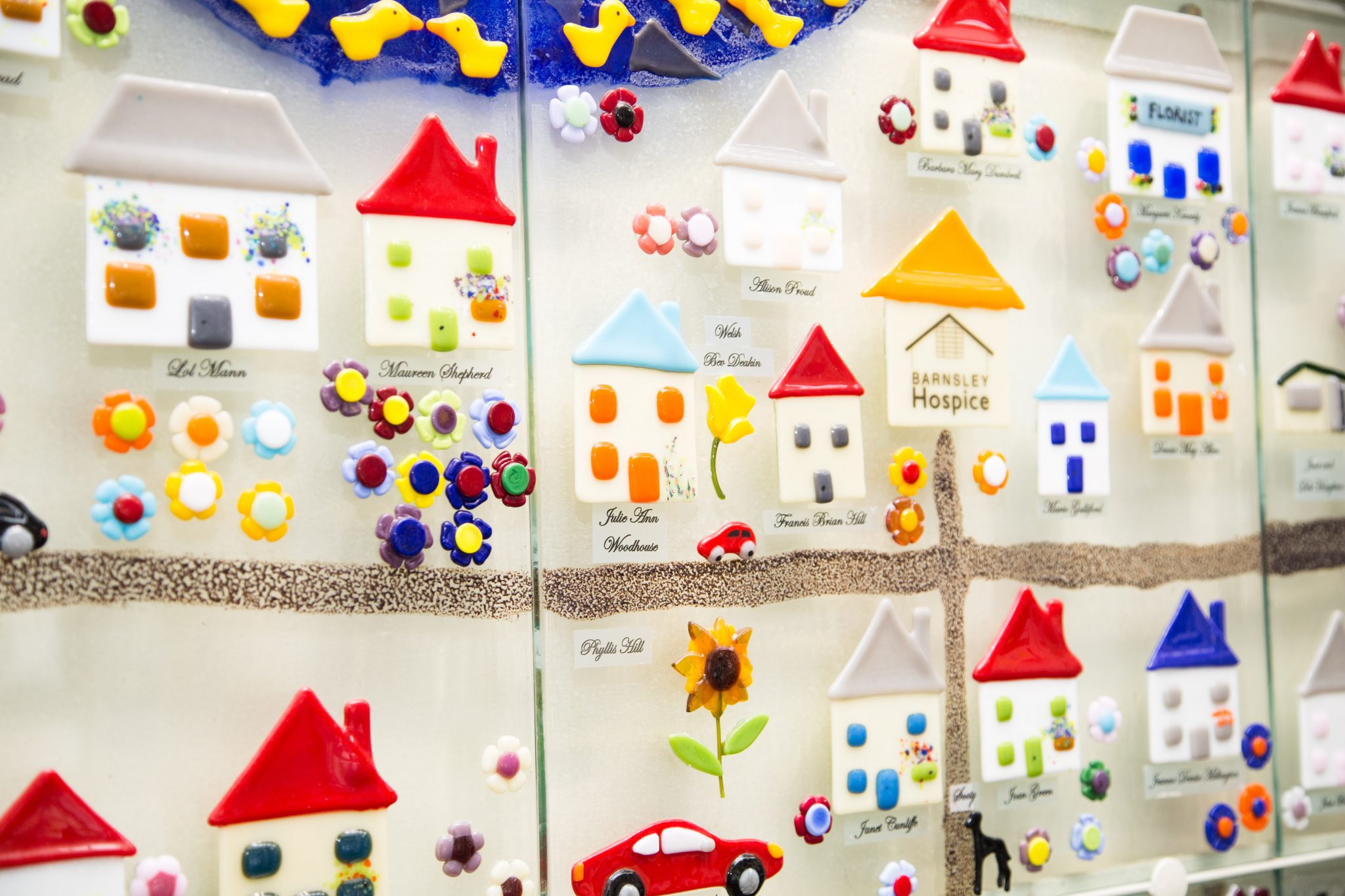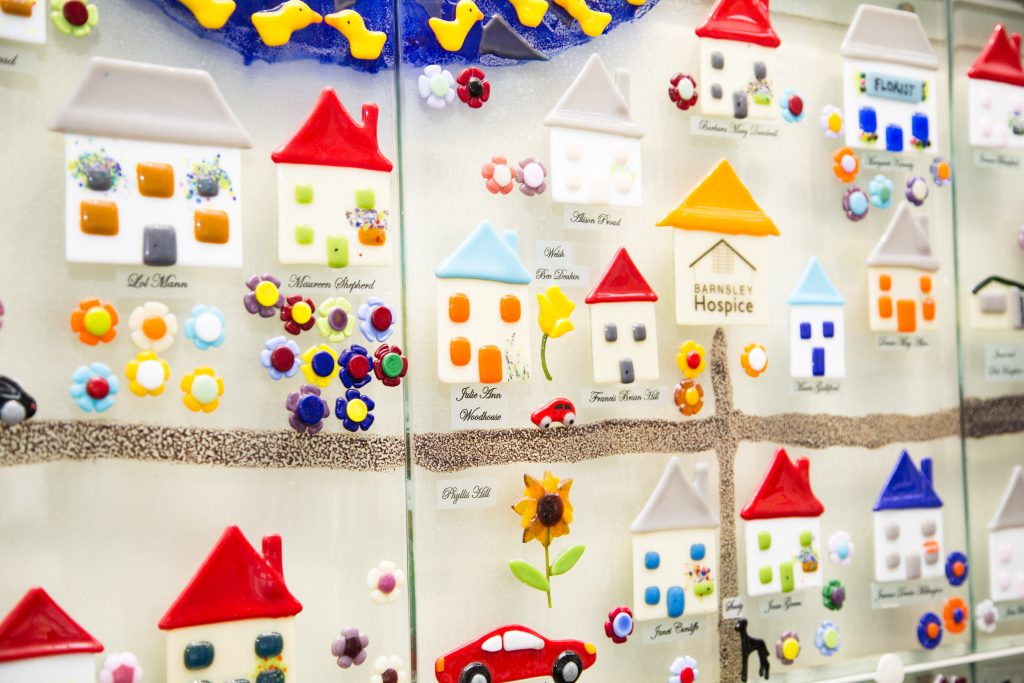 Individually handmade cottages and houses can be chosen from our range at the bottom of this page. Every house in the village comes with a deed of location and your loved one's name is also recorded, with a personal message from you, in the 'Hospice Village Directory' too. We ask for between £180 and £250 to dedicate a cottage to your loved one in our unique hospice village.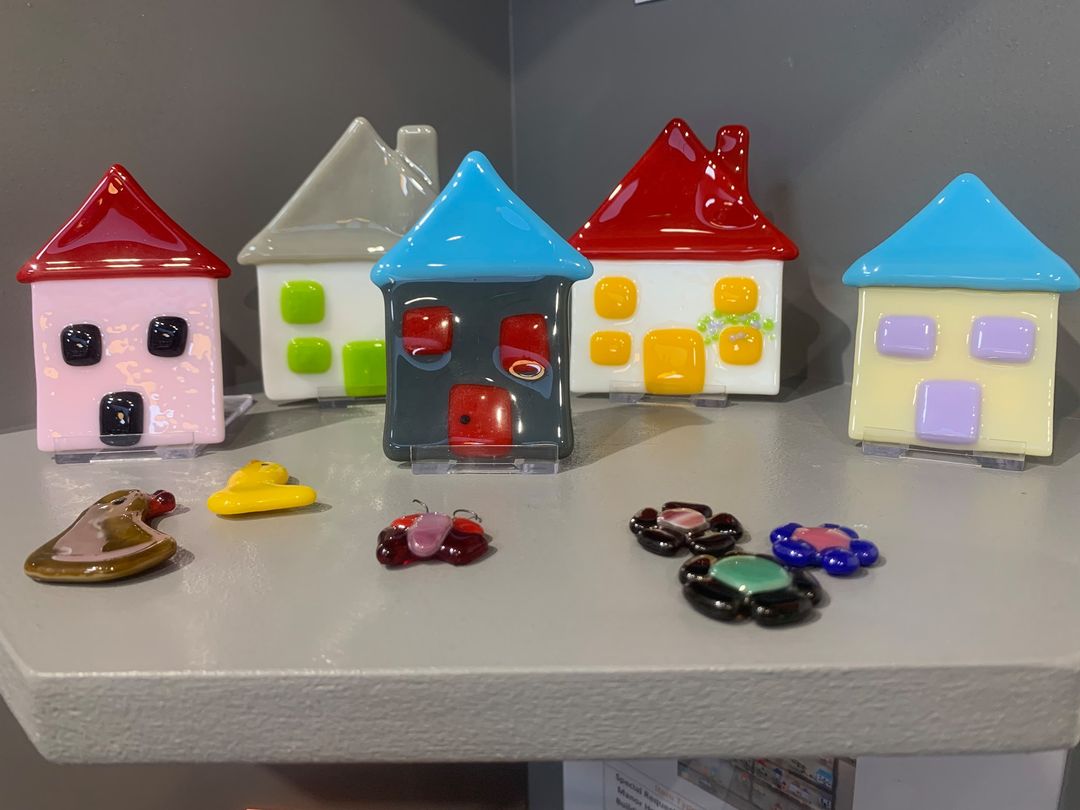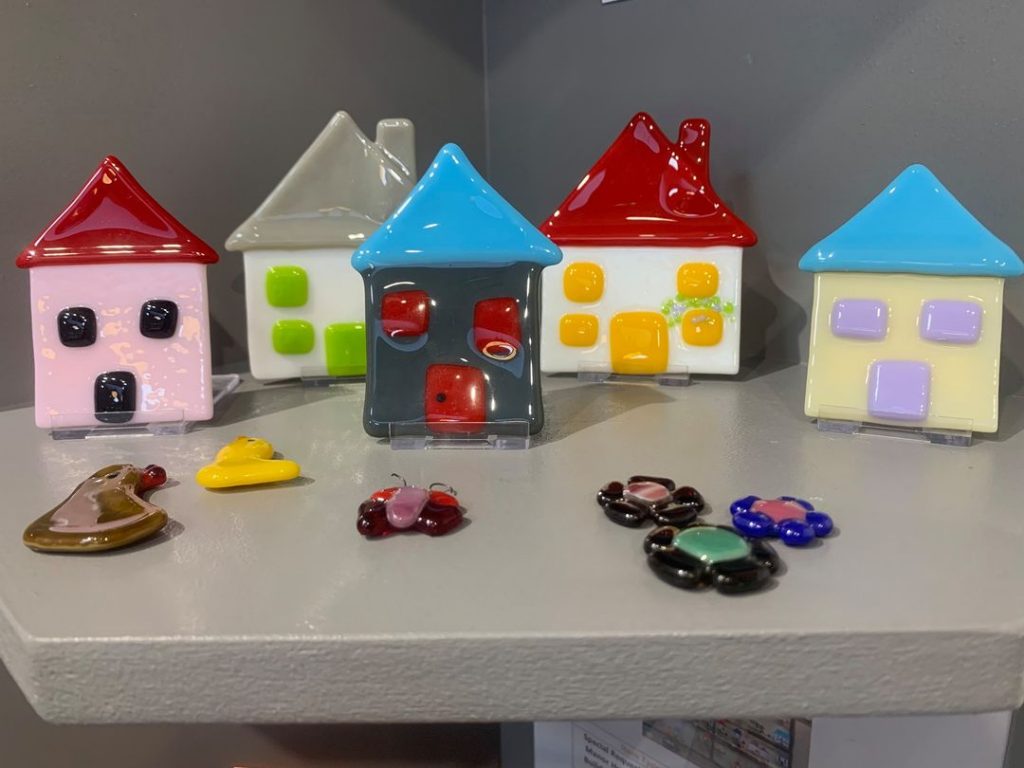 For further information about 'The Hospice Village' and to book an appointment to view the current houses awaiting dedication, as well as discuss bespoke pieces, please contact the Fundraising Team on 01226 244244 or email at fundraising@barnsley-hospice.org.
Here is the beautiful range of handmade glass houses available to dedicate to the memory of a loved one – with your donation made to patient care.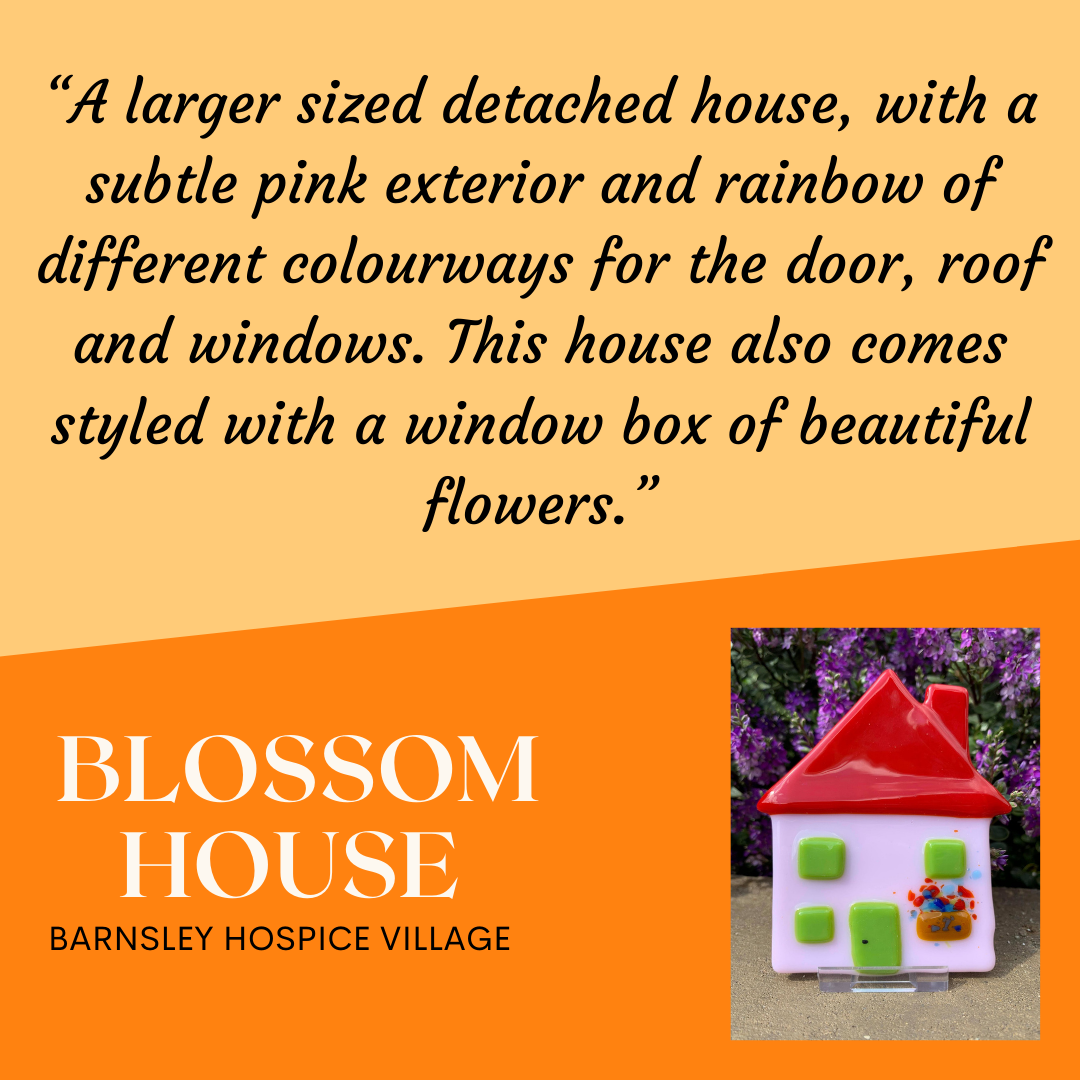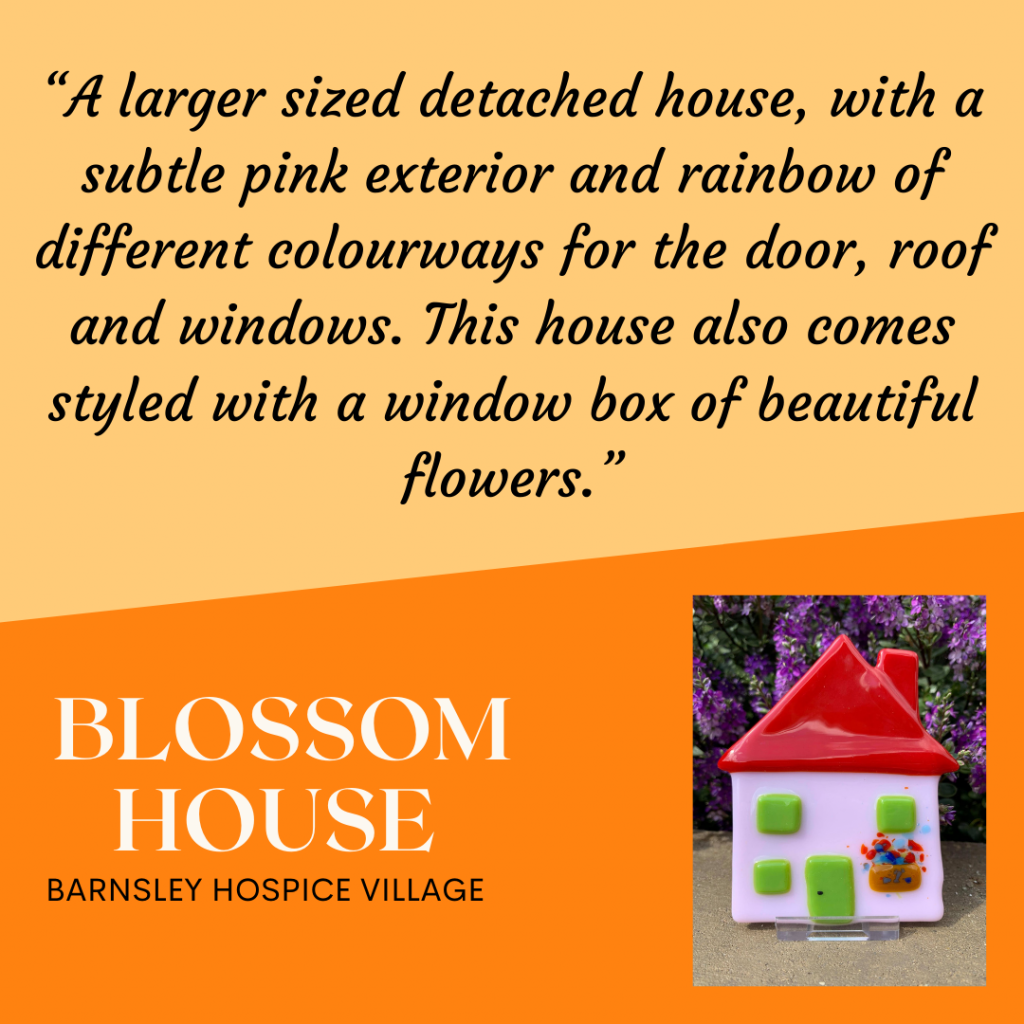 You can also discuss making bespoke landmark items. Phase one of the village features an eclectic mix of items that reflect the lives of those they are dedicated to including Barnsley FC's Oakwell Stadium, a JCB, a fire engine, a Barnsley Bank, cats, budgies and even a unicorn – alongside more traditional houses and cars. Glass birds and flowers are also available on the village and these smaller glass items provide a tribute to suit everyone, especially children.
All the handmade pieces in our Hospice Village are produced by local artisan glass artist Pam Goodison.
The Hospice Village Phase One has kindly been sponsored by: Armitage Residential; Barnsley Chronicle; Doyle Consultants; Haybrook; Hiltons; Irwin Mitchell; Regency Garden Buildings, and The Elevator Company.
The Hospice Village Phase Two has been kindly sponsored by: Armitage Residential; Barnsley Norse; P. Biddlestone Groundworks and Maintenance; Billington Structures Ltd; Blueline Taxis; Hammerton's Funeral Directors; Harris & Co; Irwin Mitchell, and Hiltons.