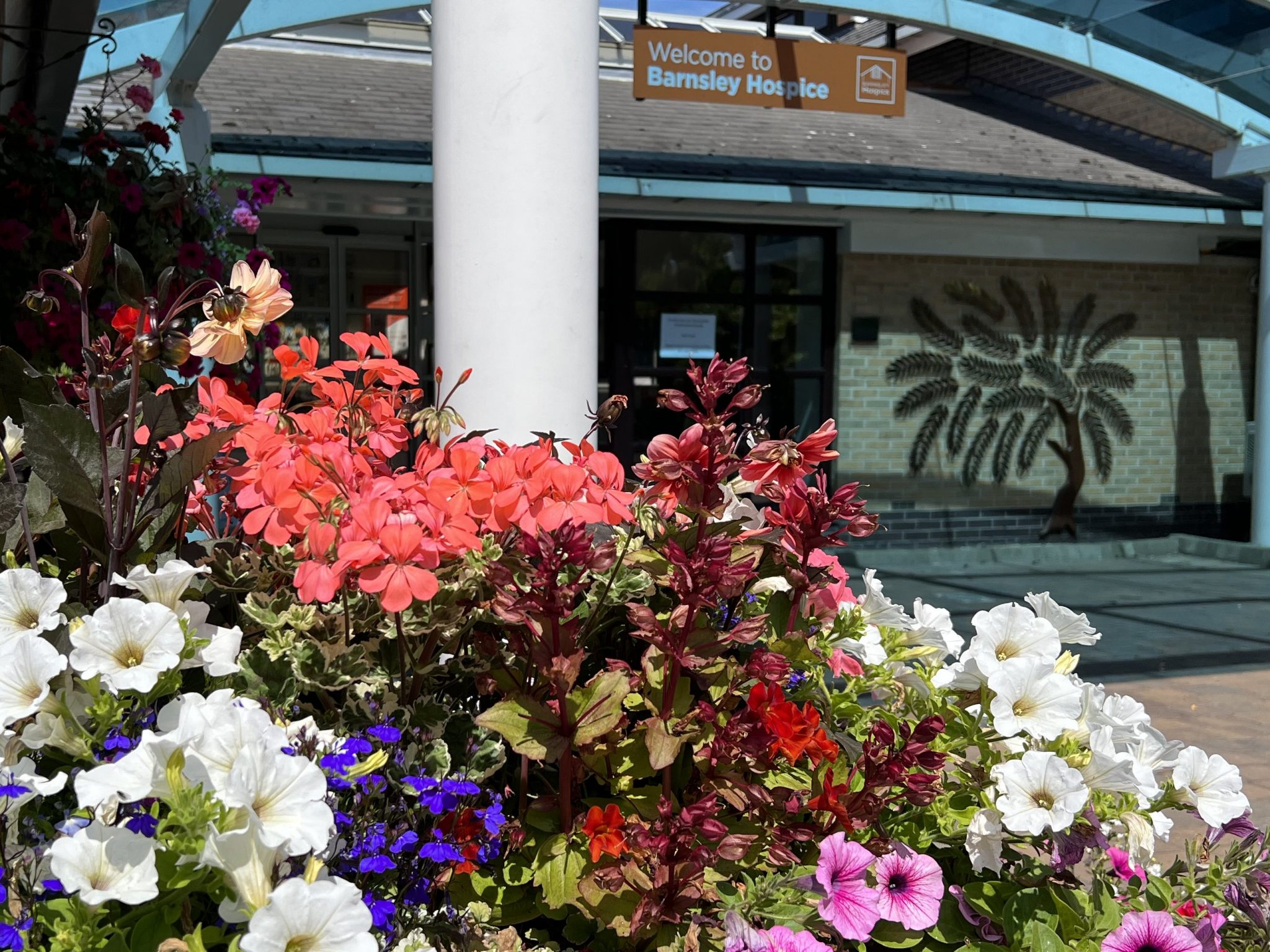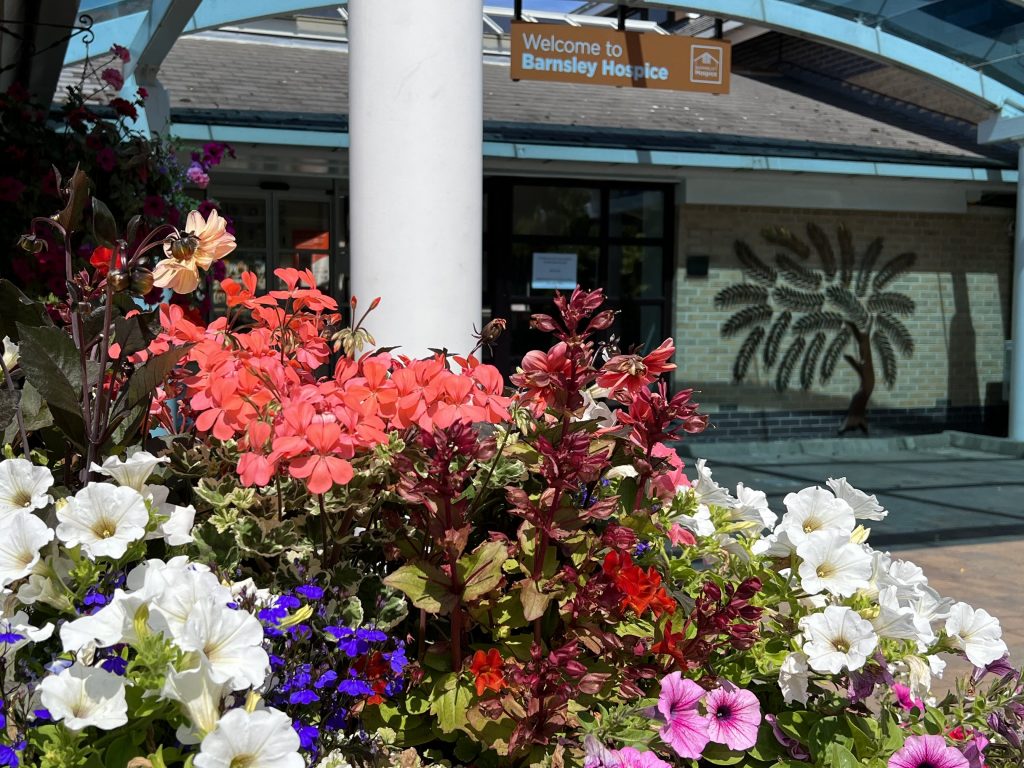 Welcome to Barnsley Hospice!
You can visit your friend or relative between 9 am and 9 pm, Monday to Sunday.
If you're unable to attend during visiting hours, talk to a member of staff in charge of the unit to arrange an alternative time to visit. We can also arrange virtual visiting.
We welcome and encourage relatives and friends to visit patients. However, please be mindful that patients can get tired very quickly.
We limit the number of visitors to no more than 3 people at any one time. This is mostly about the available space and managing noise levels due to the number of people entering and leaving the unit at any given time. We request that friends and families talk to each other to co-ordinate visiting to stagger visitors so that they come at different times rather than at the same time.
Children are very welcome to attend the unit. However, please ensure they are accompanied by an adult at all times.
Pets are also very welcome, and with forward planning we can accommodate most pets to visit.
Refreshments throughout your visit
During your visit, food is available to order at our Reception. Please ask a member of the team, who will be happy to provide a menu and take your order.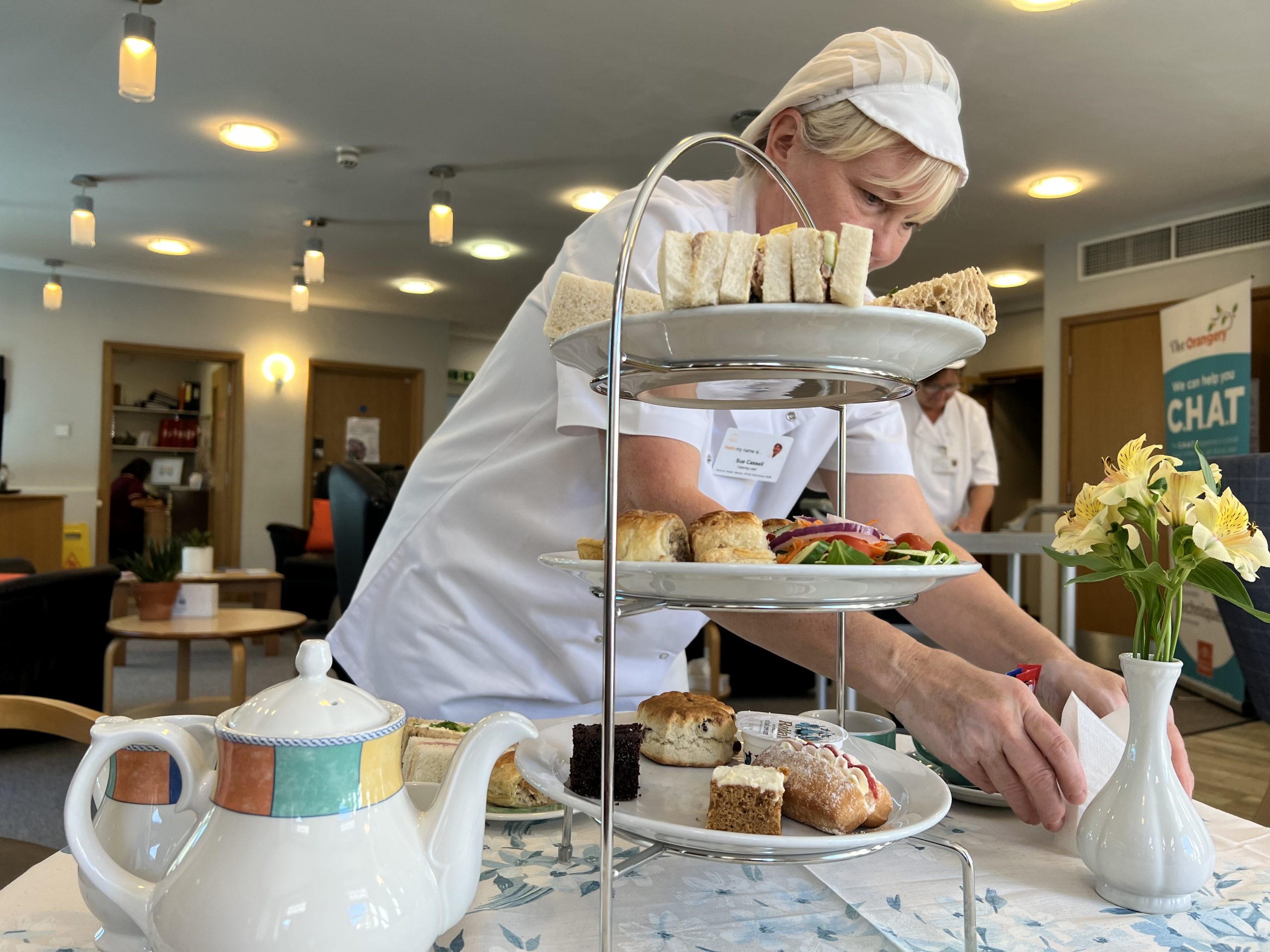 We are happy to accommodate a small gathering of friends/family using available space in The Orangery and/or the patients' lounge, and we can facilitate a family lunch together or afternoon/evening tea – this just needs a bit of forward planning.
Please do let us know about any special occasions that you wish to celebrate together and we will do our best to mark the occasion and help you create some special memories together.
Please help yourself to Tea/Coffee/Biscuits that are freely available in the Lounge throughout the day/night.
A vending machine is also available to purchase other snacks and drinks.
Overnight stays
We understand that some people will want to spend as much time as possible with their loved one, and we are able to accommodate overnight stays. Please ask, and a staff member will be happy to arrange this for you.
Keeping yourself and others safe
Hand Hygiene remains vital and is considered one of the most important ways to reduce the transmission of infectious agents that cause healthcare-associated infections. When visiting someone in the hospice, ALWAYS clean your hands using soap and water or use alcohol-based hand rubs. Do this when you enter or leave the hospice, a patient's room or other areas of the hospice.
If you are concerned about the hand hygiene of doctors, nurses or anyone else you come into contact with in the hospice, you're encouraged to ask them whether they have cleaned their hands or to speak to another member of staff about this.
For two years during the COVID-19 pandemic, we all adjusted dramatically to the strict measures that were put in place to manage the threats to our health. We went in and out of lockdown and self-isolation, mask-wearing and self-testing became regular parts of our daily life. Now, thanks to high levels of immunity built up through vaccination and previous waves of infection, COVID-19 no longer dominates our lives. Before visiting, there is no requirement to take a Lateral Flow Device (LFD)test. However, hospice staff will ask you to confirm that you have no symptoms of COVID-19 before you enter the hospice. It is no longer compulsory for visitors to wear face masks in the hospice. However, there are a range of reasons why Personal Protective Equipment may be required. In these circumstances, you will be advised if any Personal Protective Equipment (masks/aprons/gowns/goggles) is required when visiting your friend/relative and this will be provided by the hospice.
Please continue to help us keep our staff and patients as safe as possible. Please do not visit if you are ill. If you have a cough, cold, diarrhoea, vomiting or any other infectious condition, contact the ward for advice before visiting. Remember, are always happy to support with arranging virtual visiting.
Bringing items for your loved one
Visitors often ask us what items they should bring to the hospice. However, this is very personalised to the individual, and we suggest you talk to other family/friends visiting and coordinate this together so that the patient will not end up with several items that are the same. You may wish to bring non-perishable foods in a sealed container for example, the patients' favourite biscuits or sweets or a few photos of home, garden, pets, family or friends. A newspaper, magazine or book may be appreciated. We can arrange for you to watch a favourite movie together or play a favourite board game. We have a few small but beautiful garden areas including a lovely pond with fish that everyone can enjoy. Please ask, and staff will be happy to arrange this for you.
We want to hear from you
We welcome all feedback, whether positive or negative, as this helps us identify where things are working well and also where there may be room for improvement. Full details can be found in our leaflet 'We want to hear from you'. In summary, you can provide feedback by:
Barnsley Hospice
104-106 Church Street
Gawber
Barnsley
S75 2RL
We want your visit to the hospice to be safe and enjoyable for you and the patient, so please let us know what more we can do to achieve this aim. Thank you for taking the time to read this information.
Where can you find us?
We are based in Church Street, Barnsley, S75 2RL, opposite St Thomas' church, Gawber. We have a free car park for patients and families, and also offer electric car charging points. If you have any enquiries, please speak to our Reception team by calling 01226 244244 or emailing enquiries@barnsley-hospice.org.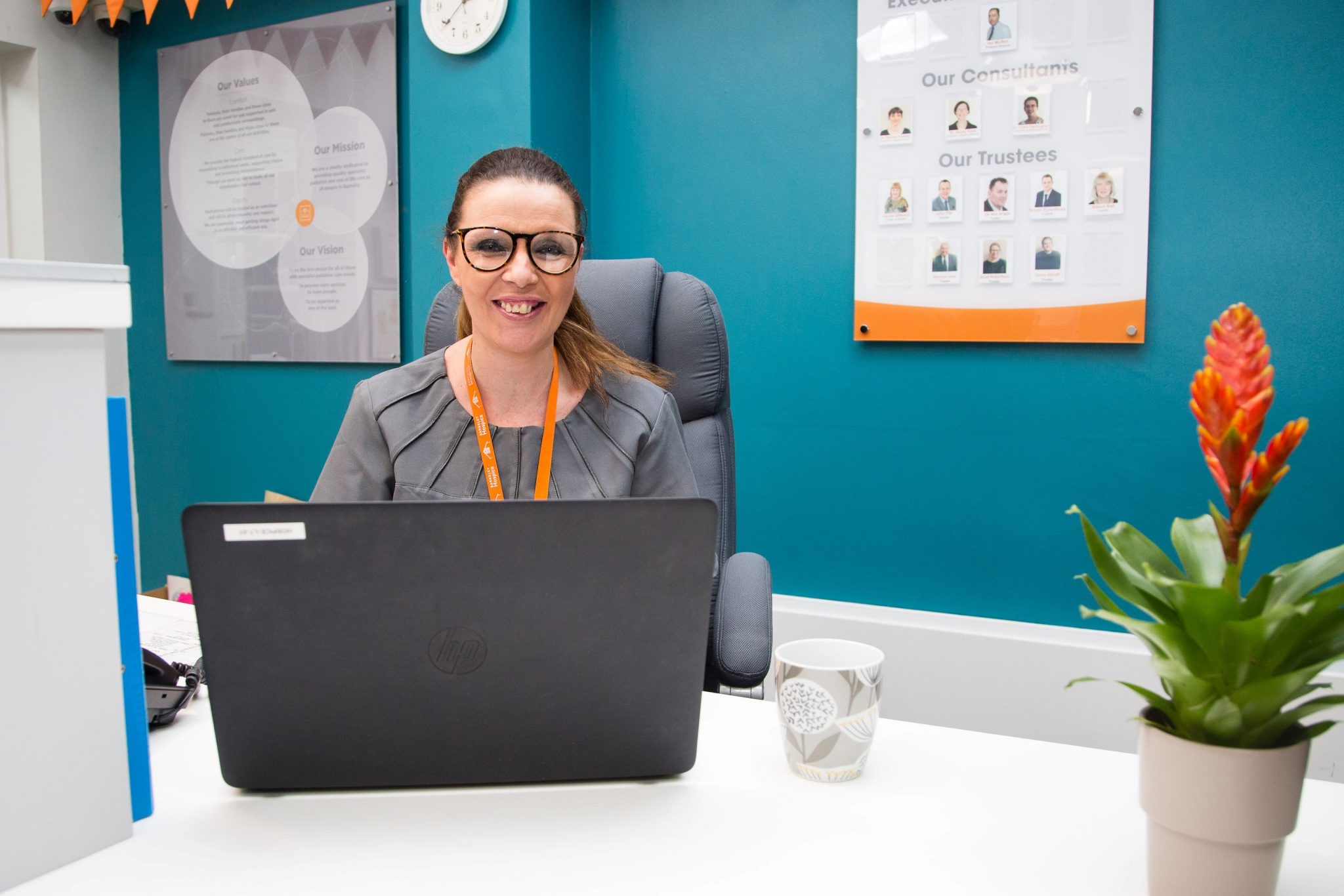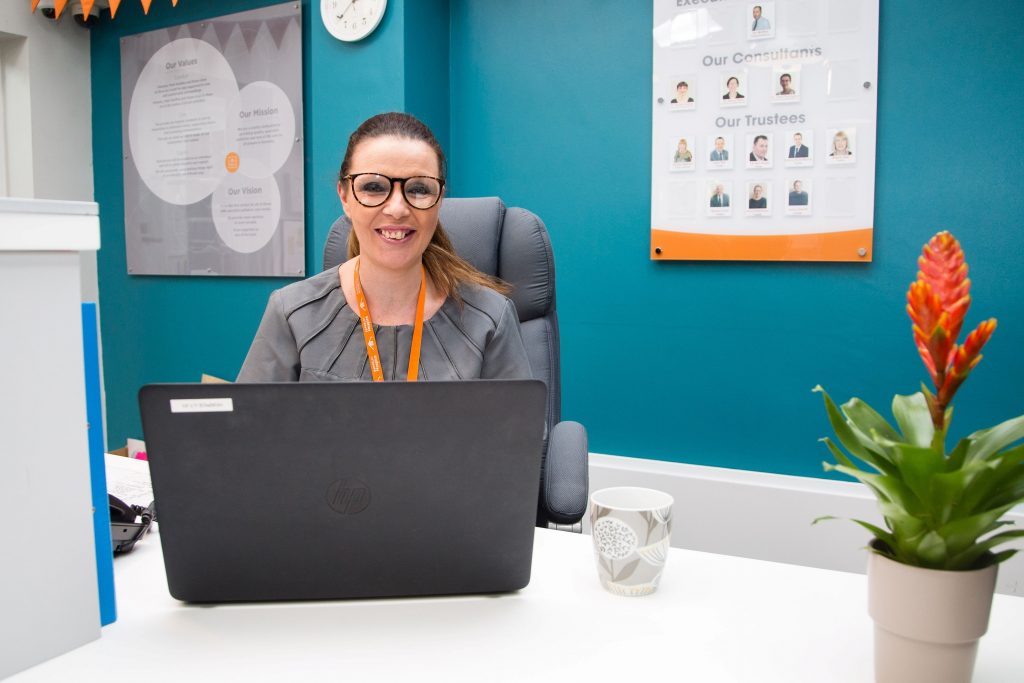 Fundraisers and Supporters
Our reception is open Monday to Sunday, 9 am to 5 pm. Please call in with any donations, to pick up any resources or make any queries at all between those hours (ideally on weekdays) or call 01226 244244. Thank you.
Accessibility
Our hospice is accessible to wheelchair users with disabled facilities in all areas. If you have a physical, sensory or neurological impairment that may affect your ability to visit us or access our services, please talk to the person leading your care or call on 01226 244244 and we will do everything we can help. Accessibility is extremely important to us, so please do let us know if there's anything we can do to improve this further.
No smoking
Smoking is not permitted in any part of the hospice buildings or grounds. However, we recognise that some patients continue to smoke and therefore a seated smoking area is provided outside for them to use.
Facilities
Visitors toilets, including accessible toilets, are available in the hospice. Please ask a member of staff if help is required. We offer a free Wi-fi service to patients and visitors to Barnsley Hospice. Please ask a member of staff for details.
Any queries?
Please contact the hospice reception desk to discuss visiting arrangements and any other queries on 01226 244244.