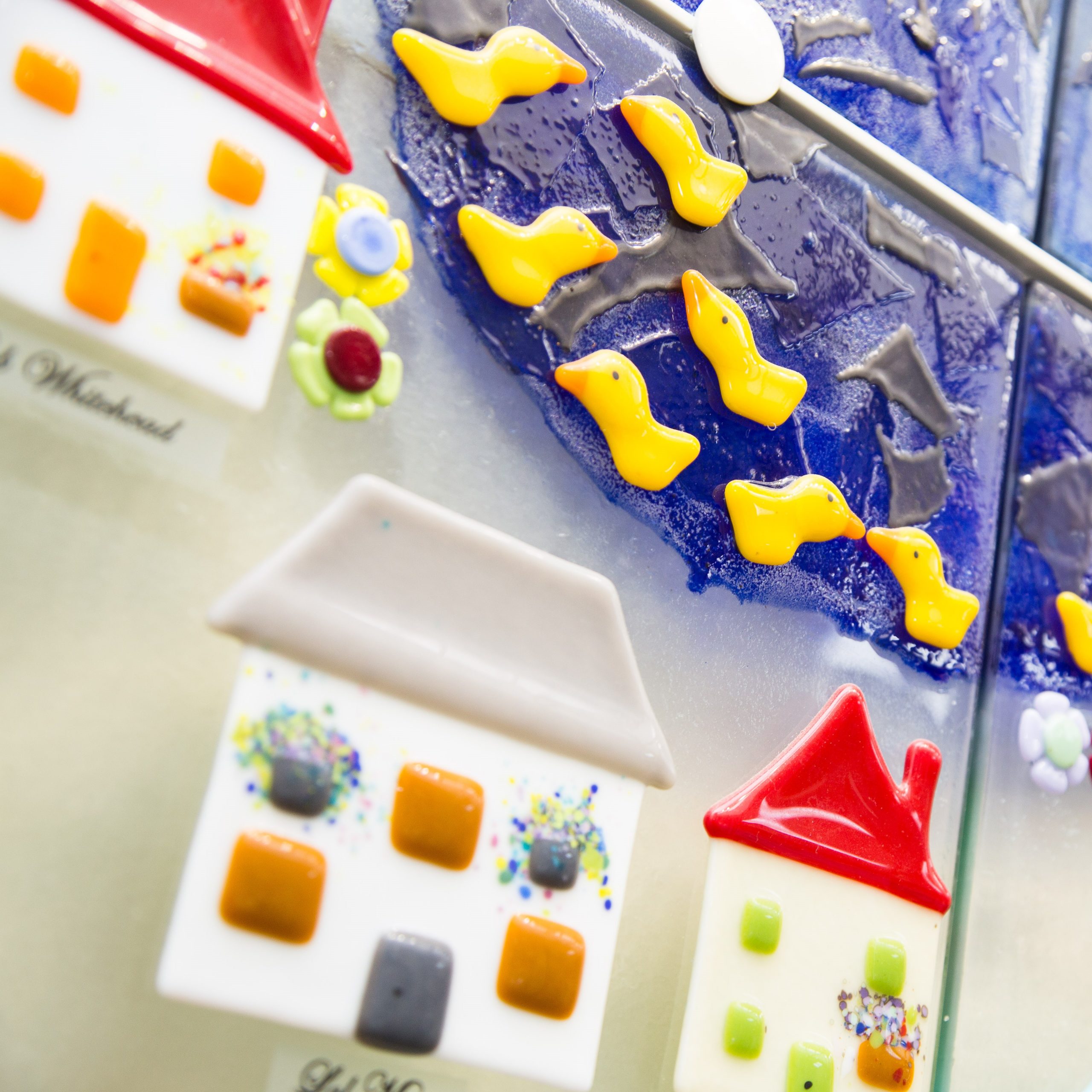 Posted 3 February 2021
Barnsley people are being invited to remember loved ones by adding a dedication to the hospice's unique 'village of remembrance'.
We have launched phase two of our fundraising Hospice Village, a 3D mural hanging in our reception area and featuring meaningful objects in memory of those who have died. Handmade glass houses, sheds, trees, flowers, cars – or any other item that has personal meaning may be purchased and dedicated on the mural, with the money raised going to patient care.
'Phase one' of the village launched seven years ago and is now complete. It features an eclectic mix of items that reflect the lives of those they are dedicated to including Barnsley FC's Oakwell Stadium, cats, budgies and even a unicorn – alongside more traditional houses and cars.
Simon Atkinson, corporate fundraiser at Barnsley Hospice, said: "The first mural has provided a unique place for people to remember their loved ones and we are pleased to be able to open up more space with the launch of phase two. The Hospice Village community is growing, and this is a special way for people to celebrate someone they love and help us continue to provide much-needed support and exceptional care to the people of Barnsley."
Phase two of the village is kindly sponsored by nine Barnsley businesses: Armitage Residential; Barnsley Norse; P. Biddlestone Groundworks and Maintenance; Billington Structures Ltd; Blueline Taxis; Hammerton's Funeral Directors; Harris & Co; Irwin Mitchell, and Hiltons.
Stained glass artist Pam Goodison, who lives in Stocksbridge, creates all the glass features at a reduced rate for the charity. She said: "This mural is so important in helping relatives and friends remember loved ones. Last year I was asked to make a piece in memory of someone I worked for a few years ago. It meant so much to be asked to do this as it was also my way of honouring her life."
Recent glass commissions for Pam have included a JCB, in celebration of someone's dedication to construction, and a Barnsley bank in memory of someone's long career there.
Simon added: "What began as a traditional village has evolved into a meaningful mix of very personal dedications that provide a lot of comfort to people. Part of the magic is in seeing their piece go up onto the mural, and supporters will be able to see their dedications affixed in person when COVID-19 restrictions allow."
The handmade bespoke glass items with loved ones' names written beneath cost £75 or more to buy. To find out about more, please contact fundraising@barnsley-hospice.org