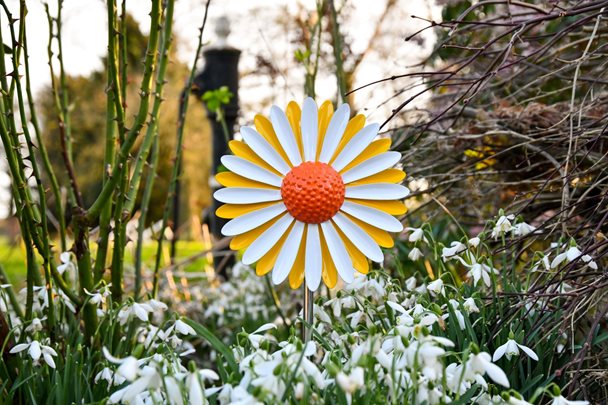 Posted 16 June 2020
PRESS RELEASE
People are being urged to Dedicate a Daisy to help raise funds for Barnsley Hospice.
The Dedicate a Daisy appeal gives people the chance to purchase a beautiful custom-made steel daisy, which will be displayed in the hospice grounds later this summer.
Each daisy has a hollow stem where a note, photo or keepsake can be placed. And at the end of the public display people will be able to move the daisies to their own homes or gardens.
The appeal follows the successful Forever Flowers campaign last year, which raised over £5,000.
The daisies are now available for pre-order, with a minimum suggested donation of £25. Viewings are planned for late August or September, depending on restrictions.
The hospice needs to raise more than £2m each year, on top of the £1.6m it receives from the NHS. The hospice has seen its income drop recently due to the effects of the lockdown on fundraising events and having to close its shops for several weeks.
Julie Ferry, CEO at Barnsley Hospice, said: "There's something quite special about daisies. They are cheerful, synonymous with summer and a symbol of hope.
"Dedicating a daisy to a loved one is a perfect way of celebrating their life, showing you care, or simply supporting our hospice to continue its vital work for those who need us. And reserving your flower now will help us through this difficult time."
Barnsley Hospice provides compassionate, high-quality care for anyone in the borough with a progressive, life-limiting illness, including cancer, motor neurone disease and heart disease.
To dedicate a daisy please email fundraising@barnsley-hospice.org