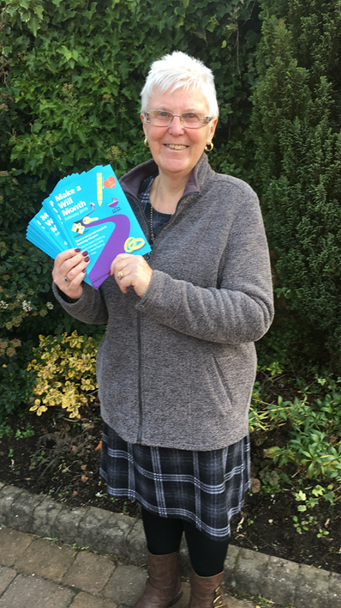 Posted 16 January 2019
Barnsley Hospice is working with local solicitors to save people money when they make a Will during February.
The annual Make a Will Month initiative sees law firms waive their fees during February in exchange for a donation, helping the hospice to continue its care.
The Barnsley solicitors giving their time for free to the hospice this year are Bury and Walkers LLP, Elmhirst Parker LLP and Wosskow Brown LLP, all based on Regent Street. They are joined by Peace Legal Limited, based on Barnsley Road in Wombwell.
Chris Miller (pictured), 66, made her Will during Make a Will Month last year. She said: "I jumped at the opportunity because as a former volunteer I have seen the good work done there first-hand and know that everyone is working hard to give their utmost care to patients.
"The process of making the Will couldn't have been simpler under the guidance of the solicitors giving freely of their time in support of the hospice. I'd encourage everyone to make this their number one priority in February. I'm glad I did!"
Donations from Make a Will Month go directly to supporting patients and their families and are taken at the time of making a Will. Suggested minimum donations are £90 for single Will, £175 for a pair of mirror Wills and £60 for a codicil (amendment).
Janet O'Hara, grants, trusts and legacies fundraiser at Barnsley Hospice, said: "Lots of people put off making a Will, even though it's a common New Year resolution. Our Make a Will Month provides a great opportunity to let your family and friends know your wishes whilst helping the hospice at the same time. It's also a way of saving money, as the suggested minimum donations are quite a lot less than the average cost of making a Will."
People taking advantage of Make a Will Month are encouraged to donate as much as they can afford to support the hospice.
Janet added: "The hospice has been caring for people in Barnsley for 25 years and anything people can give during Make a Will Month will help us continue that care for patients and their families. We're grateful to everyone who takes part, including the local solicitors who so kindly give their time to this initiative."
For more information about Make a Will Month visit the event page or call 01226 244 244. Bookings must be made directly with the solicitor.