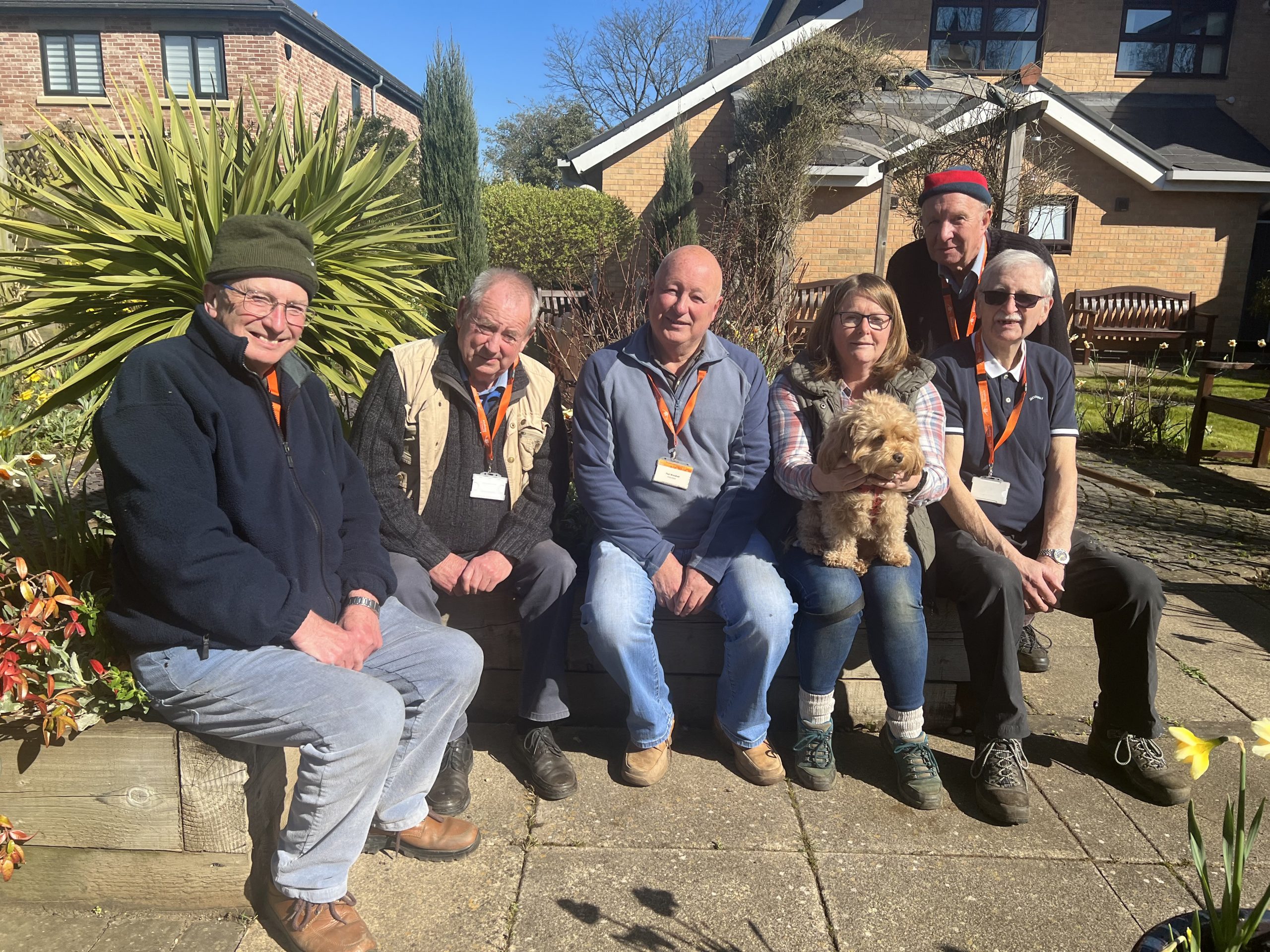 Posted 2 May 2023
Our volunteer gardeners play a vital role in keeping Barnsley Hospice in outstanding condition for patients, visitors and staff. The 'dream team' consists of six dedicated individuals that meet at the hospice every Tuesday and are responsible for maintaining the hospice's award-winning green spaces.
Having volunteered for a combined total of over 40 years, Paul Woodhall, Terry Winter, Keith Holland, Bob Mason, Steve Holliday, and Julie Burgin have been an established team for around four years. As well as receiving high praise from around the hospice, the team have been awarded Gold in the Yorkshire in Bloom competition an impressive five times.
Lead gardener, Paul Woodhall, said: "I enjoy giving back to the hospice and creating quiet and peaceful spaces where people can sit out and enjoy.
"Having big events and competitions such as Yorkshire In Bloom gives the team motivation and something to work towards."
Paul Woodhall began volunteering for the hospice 12 years ago after his friend told him the hospice needed gardeners. Though initially planning to join the hospice as a volunteer driver, Terry joined the gardening team just after Paul.
Julie and Bob both joined the team with years of gardening expertise under their belt. Julie works as a gardener managing over 25 gardens every month, whilst Bob has worked in horticulture since he left school – working as a gardener at Doncaster Council for many years.
Keith and Steve began volunteering after their wives were cared for by the hospice. Their time spent volunteering is a way of saying 'thank you' to the hospice by creating a special environment for patients, visitors and staff to spend time.
Those who have spent time with the team will know a seventh member who makes an appearance each week. Julie's beloved dog, Nelly, joins the team every Tuesday and has a particular talent for helping with digging duties! Her place on the team was made official when she received her very own Barnsley Hospice volunteer ID badge.
Julie shared, "Many of the patients and visitors love seeing Nelly getting to work around the hospice grounds. She can be a real boost for people at what is a difficult time for many.
"Recently, a patient's son told us what a difference Nelly made to his Dad, who was missing his own dog during his stay at the hospice."
The team focuses on a new project and area of the hospice each year.
This year they are working on the entrance of the hospice and planting saplings kindly donated by the National Woodlands Trust. In recent years, the team transformed a flat grassy space outside the Inpatient Unit into a beautiful seating area for people to enjoy in the summer months.
Whilst picking an overall favourite part of the garden would prove challenging for the team, Julie shared that she had a soft spot for the outdoor areas next to the hospice's support and wellbeing service, The Orangery.
"I loved this project as I helped to design the beds. We transformed it from an overgrown area into a space for bright flowers, creating a fantastic view for people using the service."
Paul adds some of his favourite parts of the garden are the friendships that have blossomed whilst creating them.
"There's a great social aspect to the team. Although we didn't know each other before joining, we all work together well and sometimes meet up outside of the garden and over the winter.
"It's also a great form of exercise for us and helps to keep us active!"
Martine Tune, CEO and Chief Nurse at Barnsley Hospice thanked the gardeners for their contributions.
"The gardens are an incredibly important part of the hospice, and we are proud of the beautiful spaces our gardeners have created. "We're extremely grateful for all the hard work and dedication the team put into transforming the hospice gardens into the award-winning spaces they are today. It's amazing to see the impact they make on those spending time in the gardens and to hear such positive feedback from staff, patients and visitors."