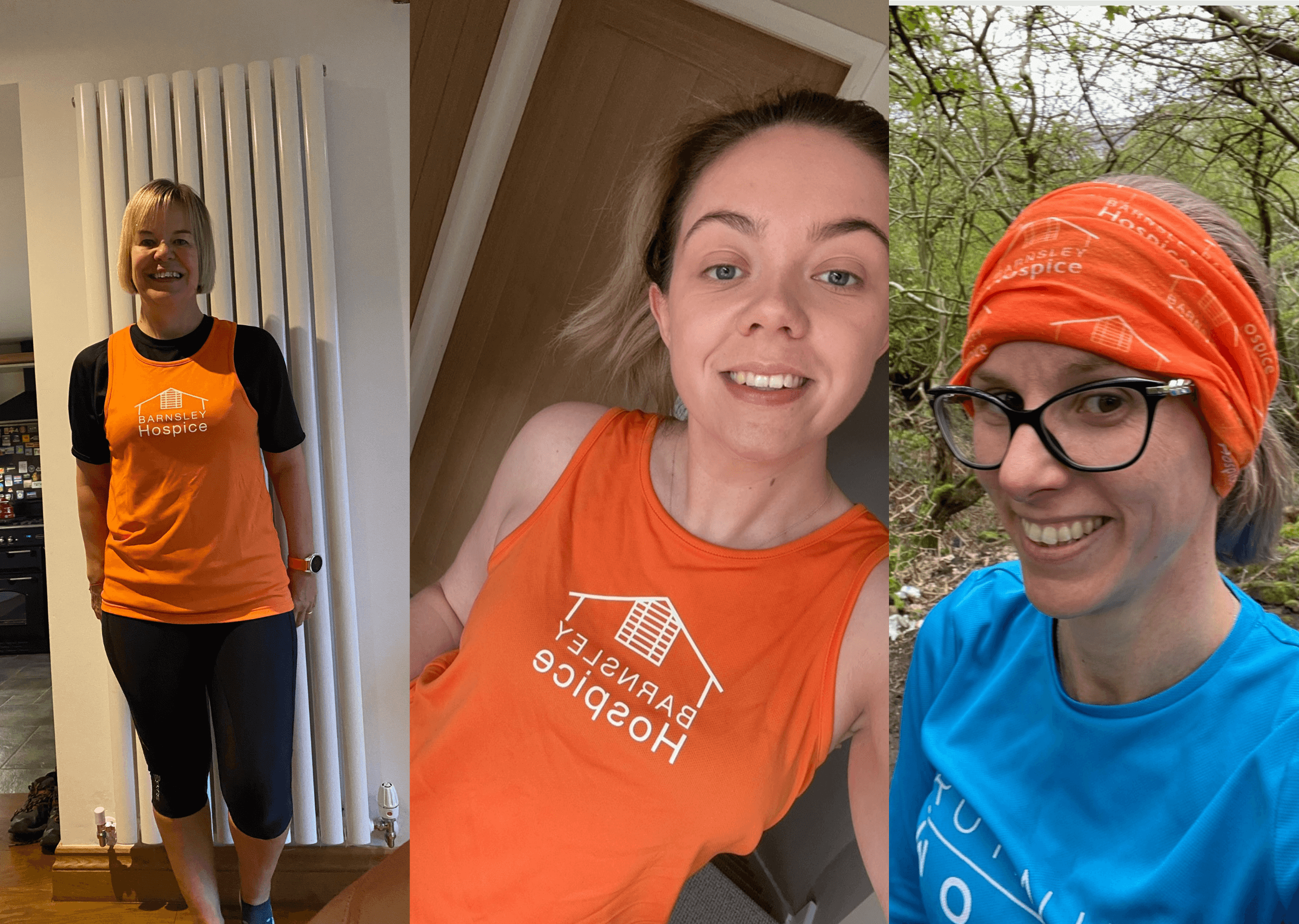 Posted 17 April 2023
This Sunday, the iconic London Marathon will return to its usual April spot for the first time since 2019. Three incredible individuals are taking on the challenge in support of Barnsley Hospice, and we are delighted to share more of their fundraising story.
Karen Schofield, Emily Huby and Justine Uttridge will be heading down to the capital this weekend to complete the 26-mile course. We are wishing them all the best, and can't thank them enough for supporting the hospice.
What made you want to do the marathon on behalf of Barnsley Hospice?
Karen: I wanted to support a local charity, and Barnsley Hospice is one that is close to my heart. My Mother in Law, Cynthia Schofield, was cared for by Barnsley Hospice in the last few weeks of her life in 2014 when she was in the final stages of bowel cancer. They not only looked after Cynth, but they looked after my Father in Law and the whole family.
Emily: I entered for a ballot place as a joke (I never used to run and would actively avoid anything that involved running), and by chance, I got a place! My mum passed away on 5th January 2021 and her last week was spent in Barnsley Hospice. I'd never been into the hospice or even known much about what they do before my mum went, but I'm so glad my mum's last week was spent there around staff who genuinely care about their patients and relatives. I knew I wanted to do something at some point to raise money and when I got the ballot place, I knew this was the challenge I needed to do in memory of my mum.
Justine: Having had the privilege of working on the Barnsley Hospice Inpatient Unit (IPU), I care deeply about the care and services the hospice provides to patients and relatives. I was lucky enough to get a ballot place for the London marathon, so what better way to keep me motivated for my training than fundraising for this amazing cause?
Have you done any kind of running challenge in the past?
Karen: I have previously run Manchester Marathon (twice in 2013 and 2017) and London Marathon in 2017 (yes I did Manchester and London within 3 weeks of each other in 2017). I didn't really enjoy London in 2017 because I was still tired from running Manchester, so once I got my place in the ballot for this year, I decided that my 2 objectives were to 1) enjoy it and 2) raise money for charity.
Emily: I ran the Great North Run in 2017. Again, I was never a runner and even then, I turned up on the day without any training, so I didn't take it seriously. That was the last run I did before training for the marathon.
Justine: I took up running 3 years ago and feel having a goal to help others, as well as do something I love is a marvellous thing. I also ran the Manchester 1/2 marathon last May and the Great North Run all for the hospice. If I survive this marathon, perhaps the York marathon in October.
How are you feeling ahead of the challenge?
Karen: Nervous!!
Emily: I feel quite emotional about the marathon. The one thing that gets me through it is no matter how much pain I'm in, or how much I don't want to do it, I know my mum and others have been in worse pain. My mum was so proud of me for just finishing the Great North Run (even though it was self-titled as the Great North Walk), so I know how proud she would have been of me to finish this. I've changed my lifestyle and committed most of my weekends to running. I've really disliked trying to be a runner at times, but I know there's a bigger picture to doing the challenge that means more.
How have you been fundraising for the challenge?
Karen: I have a JustGiving page where people can sponsor me. However, I have also done some fundraising events – a coffee morning at our local Cricket Club, a raffle, a Lent Lunch at the Church Hall and a fundraising evening at home.
Emily: I created a JustGiving page, and I have been spreading this across social media. I put a target of £500 as I know times are hard so anything people can donate is really appreciated.
What would you say to anyone considering fundraising for Barnsley Hospice?
Emily: I know in Barnsley; the hospice is spoken of really highly, and the work the hospice does has impacted a lot of lives and families. If anyone was considering fundraising for Barnsley Hospice, then go for it. The hospice appreciates every single person who donates and fundraises for them as it means so much to the work they do. You'd be helping to support a local charity, and you never know when someone you know may need help from them.
How is the training and preparation for the marathon going?
Karen: Once I found out that I had a place in London Marathon, I made myself a training plan to build up my miles because back in October, I was only doing runs of 3-4 miles. I have just this week done a run of 20 miles so that is a big step up which would indicate that my training plan is working. I did a 10k race in November and a half marathon in February as part of my plan to get used to race conditions again.
Emily: Training has been going well. I've gone from never running to comfortably running 10 miles. I'm not the fastest, and I'm a run/walker, but never did I think I'd be able to cover the miles I have. It's been difficult and as I've gone from never running to increasing my miles, I've injured my leg, but it's not stopping me. Even if I had to walk most of it, I'm turning up and finishing it. I'm doing what I can to make race day as comfortable as possible.
Do you have a target for the marathon or your fundraising that you're hoping to achieve?
Karen: My target for the marathon is to finish it. I am not the fastest runner, and I expect it to take me about 5 hours 15mins and, as I said earlier, I just want to enjoy the experience. I originally set out to raise £1,000 for Barnsley Hospice, but I have already exceeded that amount, with hopefully more sponsorship to come in.
How can people support your challenge?
Karen: The best way to donate is via my Justgiving page – https://www.justgiving.com/fundraising/karen-schofield5
Emily: People can support my challenge by donating to my just giving page https://www.justgiving.com/fundraising/Emily-Huby2023
Justine: If you would like to donate to my challenge, please visit my JustGiving page – https://www.justgiving.com/fundraising/justine-downing-uttridge