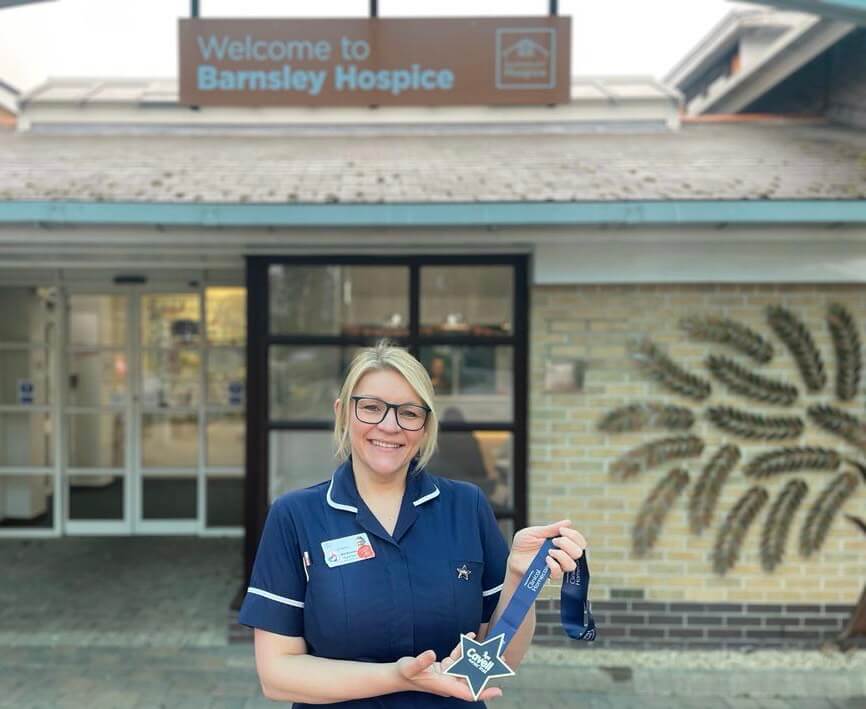 Posted 28 February 2023
This week, Barnsley Hospice was delighted to present its ward sister, Mel Butcher, with the prestigious Cavell Star award, in recognition of her contribution to the outstanding care and support provided at the hospice.
Mel initially joined the hospice as a staff nurse over ten years ago, stepping into the role of ward sister during the COVID-19 pandemic, and leading the nursing team throughout the hospice's journey to an 'Outstanding' CQC rating. 
The executive leadership team at the hospice nominated Mel for the award. Upon hearing that Mel's nomination had been successful, the director of nursing and allied health professionals, Ross Fletcher, presented the award in a surprise ceremony.
In a speech at the ceremony, Ross said: "The Cavell Star is an award for nursing staff who shine brightly and show exceptional care to colleagues, patients and their families. 
"Our ward sister Mel has been awarded the Cavell Star for showing compassionate leadership, always having the time to care, leading the team through the recent CQC inspection, and putting her arm around the team daily.
"I'd like to say a huge well done and thank you to Mel for always going above and beyond and being such an important member of Team Hospice."
Mel shared her joy at receiving the award.
"It was such a surprise to receive the award and I feel quite overwhelmed at the moment!
"I'm so proud to be a nurse and feel incredibly honoured to work at the hospice, so it's wonderful to be acknowledged in this way."
The Cavell Star Awards is a national programme run by the Cavell Nurses' Trust designed to bring awareness to the incredible contribution of nurses, midwives, nursing associates, and healthcare assistants.