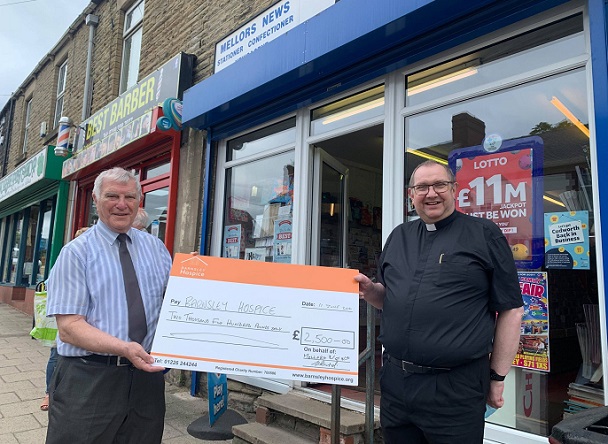 Posted 14 June 2021
Cudworth newsagent Gordon Bird has penned a poem in support of the hospice and raised an amazing £2,500.
Although Gordon, of Mellors News, says he wouldn't describe himself as a natural-born poet, his love for words has rocketed in recent years.
Gordon set himself the challenge of writing a poem, 'Will You Win', to raise awareness about the dangers of gambling, and decided to donate all proceeds from sales of his poem to the hospice. Gordon contacted several major bookmakers to ask for their support too, but it has been the generosity of the local community that has seen his fundraising efforts go from strength to strength.
Gordon, aged 86, said: "I have been selling framed copies of my poem in the newsagent's and our local community has been extremely generous in helping us to raise money for the hospice.
"So far, we've raised £2,500, which we are so pleased with, but we are not stopping there! I'll be writing new poems for the likes of Father's Day and Christmas, which I hope will continue to raise a great amount for the hospice.
"We had supported another charity for many years, and just before Christmas decided that we'd begin donating our fundraising efforts to the hospice, as it is a great local charity that we feel proud to support.

"Thank you to everyone who has purchased a copy of the poem, as well as Father David from St John's for helping to keep us organised!"
Everyone at the hospice is extremely grateful for Gordon's act of kindness and look forward to reading his future poems.