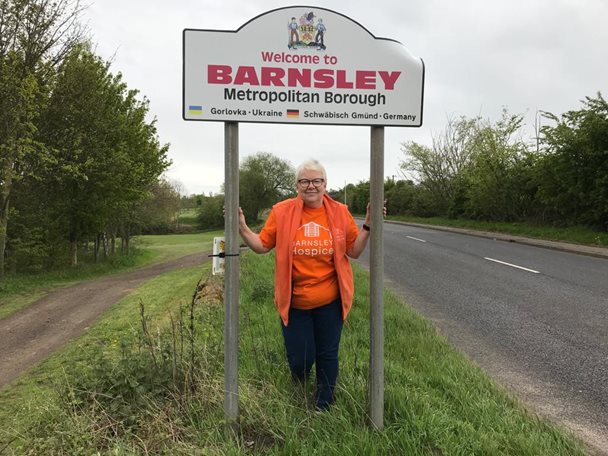 Posted 3 June 2021
The hospice is excited to launch it's very first 'Facebook challenge' – could you walk 100 Miles for us in July?
Over the past year, hospice events have taken a severe hit due to the ongoing restrictions, and we are looking forward to giving the local community a way to safely join together, get active and support the hospice.
This summer, we are giving you the opportunity to increase your fitness in a way that suits you, whilst raising vital funds fto cover the costs of the care and support we provide for the people of Barnsley. The Facebook-based challenge is simple: walk, jog or run your way to 100 miles, throughout the month of July.
You may take long, scenic walks at the weekend, or clock up your miles with morning and evening strolls around the block – it's entirely up to you!
Many have felt isolated throughout the past year, and we hope that this challenge will help people to feel part of something. You'll be able to interact with fellow #hospiceheroes taking part in the challenge in a dedicated '100 Miles in July' Facebook group. By taking part, you will be doing something amazing for the hospice. And, you will receive a FREE hospice t-shirt when you set up your Facebook fundraiser.
If you complete your miles, and reach your £150 fundraising target, you will be awarded a limited-edition 100 Miles in July medal, which you can wear with pride once the challenge is finished.
To find out more about the challenge, please see our FAQs below.
When does the challenge start?
Sign up anytime now.Start 1st July!
How do I sign up?
Firstly, please join our Facebook Group . Once you are a member of the group, you will be able to see all the details of how to register for your t-shirt and set up Facebook Fundraiser page.
Will I be sent a sponsor form?
We have chosen not to automatically send out sponsorship forms to everyone taking part in the challenge, as most will manage their fundraising on Facebook, but if you do want one, we can send you one, please contact fundraising@barnsley-hospice.org.
How do I complete the 100 Miles?
Run, jog or walk your way to 100 miles, in the way that suits you! Little and often, or weekend hikes-this challenge is designed to suit you. Share your pics in our Facebook group.
How do I set up my fundraiser?
Easy! It takes two minutes using this link https://givepanel.me/fb/tJXVfUSf This is our Barnsley Hospice Facebook fundraiser tool.
How do I get the money to you?
When using the above Facebook Fundraiser tool all money raised comes directly to us! You don't have to do anything. Just double check the page is listed as raising money to for the hospice, and you are good to go.
When do I get my FREE t-shirt?
You can sign up to the challenge, and claim your t-shirt straight away here: https://givp.nl/erf/ViUhiHm7
How do I get a medal?
Everyone who completes the 100 Miles in July Challenge and reaches the £150 fundraising target, will receive one of our limited-edition challenge medals.
I have never done something like this before, what if I can't do it?
We believe in you! Concentrate on a daily goal, and you'll be surprised how soon it all adds up. Please make sure keep an eye out on our Facebook group for hints, tips, and moral support from fellow participants!
What if I don't complete the challenge?
We understand that this challenge will feel different for everyone, so we just ask that you do the best you can! We are so grateful for every single mile you complete and penny you raise, as it all helps to make a real difference to the hospice.
If you have any further questions please email fundraising@barnsley-hospice.org) Or come on over to where the action is in our 100 Miles Challenge Facebook Group!