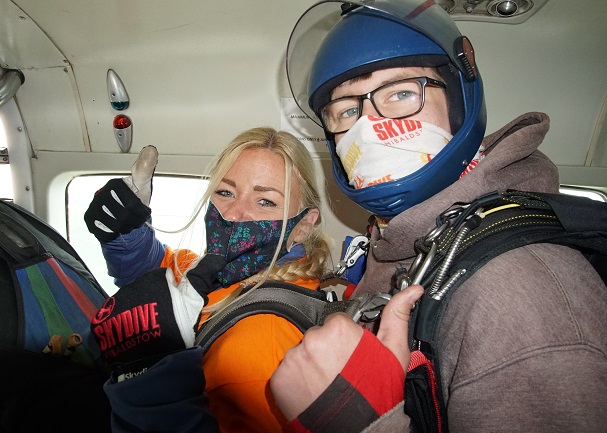 Posted 1 June 2021
The hospice held its first skydiving event of the year in April. Ten fantastic supporters headed to Skydive Hibaldstow to complete a 15,000ft skydive and raise vital funds for the hospice.
Naomi Crookes, a school secretary from Barnsley, was one of the brave fundraisers on the day. She'd been contemplating the decision for years and plucked up the courage to take to the skies this year, raising an incredible £675 for Barnsley Hospice.
Naomi, aged 39, says: "I'd been seeing the 'Skydive for Barnsley Hospice' for the last couple of years, and thought I'd love to do that, but I'm not brave enough. My friend's Dad passed away, and he always spoke about how great the hospice had been at looking after him. I just felt the skydive was a great thing to do and a great way to raise awareness and money for the charity.
"Barnsley Hospice has supported many of my family and friends. It brings the community closer together, and gives the town the fighting spirit to continue to raise funds for the amazing work it does, every single day.
"My advice to anyone thinking of doing it is, don't think, just do it! This experience will change you forever. And, this is coming from someone who is scared of heights and flying! I loved every second of it. It's just magical. The way I think about it is that there are people in the hospice fighting to have one more day in their life, be brave like them and do it for them."
Ella Beale, community fundraiser for the hospice said: "We are so proud of everyone that completed a skydive for the hospice this spring. After a year of cancelled events, it was great to see a group of hospice supporters tick an item off their bucket list, and raise a combined total of over £5,000."
If you would like to sign up for our next skydiving date on Sunday 5th September 2021, please email fundraising@barnsley-hospice.org.