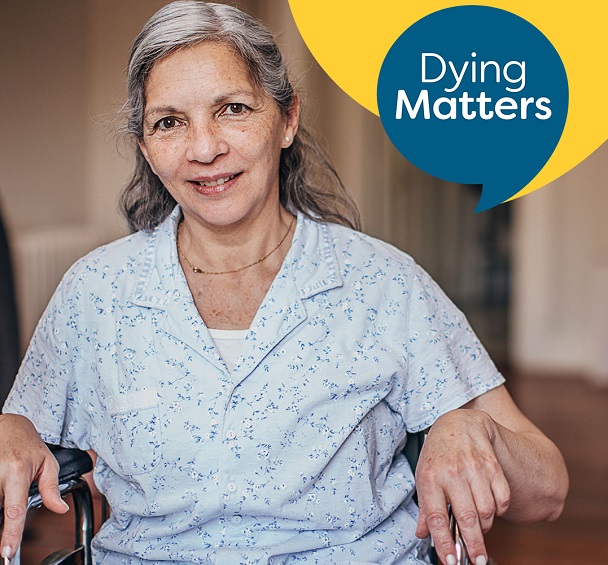 Posted 10 May 2021
Dying Matters Awareness Week runs from May 10th – 16th. Its aim is to encourage us to talk to one another more openly about dying, death and bereavement. Here is a letter from Barnsley Hospice CEO Julie Ferry in which she ecourages us all to embrace the messages of Dying Matters Week and talk to our loved ones.
"Here at Barnsley Hospice, we help people every day to have sensitive and supportive, positive and practical conversations about end of life care; to talk about facing loss and grief. That is why we are supporting Dying Matters Week 2021.
Dying, death and bereavement – many of us find it difficult to even say the words out loud, but I believe it's so important to share our thoughts about dying and the choices we may have when the time comes.
The focus of this year's Dying Matters week is the importance of 'being in a good place to die' – this means a good place physically, emotionally and with the right care in place.
There is no right or wrong place. It will be different for everyone. Many more people are choosing to die at home if this can be arranged. It's very important for families to think ahead about this as it can mean having some important conversations and taking careful decisions.

If you have a life-limiting health condition with complex care needs you may want to come to the hospice. You can talk to your GP, health practitioner or Macmillan nurse about this option.
At Barnsley Hospice, we have a ten-bed inpatient ward where we provide specialist compassionate care for people with conditions such as cancer, motor neurone disease and Parkinson's. We also provide a range of support services in our day unit – currently these services are online. We support patients and their families and loved ones too.
When people come to the hospice they've often been through a great deal of hospital treatment and this is the last place they've come to for care and support. Many expect it to be gloomy place and a bit scary, and they're pleasantly surprised to find a relaxed and friendly atmosphere. We want people to feel at ease and comfortable here. To be in a 'good place' to approach dying and death.
A lot of what we do is talking about dying. We talk with patients about planning care and making choices. We help patients and their families talk about practical and financial matters. Our counsellors are here for loved ones to talk through the prospect of loss and then cope with that loss when it comes. The grief process is different for everyone and we support people of all ages through this very personal journey.
Planning for death feels more important than ever since the COVID-19 pandemic has taken so many lives at such short notice, and in circumstances beyond our control.

It is important to talk. We hope Dying Matters Week may help you to feel more comfortable about starting gentle conversations about dying, death and bereavement with your loved ones."
Julie Ferry
Chief Executive, Barnsley Hospice