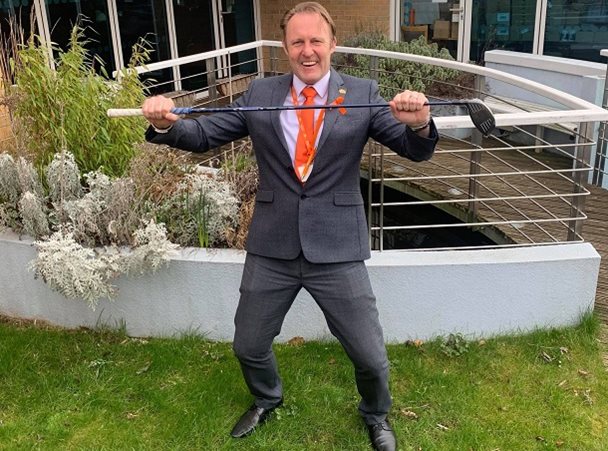 Posted 23 March 2021
Barnsley Hospice is marking the country's return to outdoor team sport by inviting businesses, friends and family to compete in its annual Golf Day. The open-air fundraiser, due to take place on Friday May 14th, will see teams of four compete for the Barnsley Hospice trophy at Silkstone Golf Club.
Lockdown restrictions are being lifted to allow for outdoor sports including golf on 29th March, and entries are now being taken for the hospice's popular event to be held seven weeks later.
The Barnsley Hospice Golf Day has been held for over 20 years and raises around £5,000 a time for patient care. The current cup holders are a team from the Alhambra Centre in Barnsley.
Simon Atkinson, corporate fundraiser at Barnsley Hospice said: "Our Golf Day is pretty legendary, and we're really pleased it can return again this year – with strict adherence to COVID-19 guidelines of course. Many of us have missed outdoor sport and being with colleagues and friends, so this is the perfect opportunity to enjoy both on a beautiful course whilst raising money to support patient care.
"This year, we particularly hope it will help teams who have been working remotely and teams who've been through tough lockdown experiences to come together, get outdoors and boost morale as well as raise vital funds for the hospice."
Registration for the Barnsley Hospice Golf Day is £180 per team of four (£45 per person) and that includes a bacon butty at the start and refreshments en-route. There will be a shotgun start at 12pm with teams teeing off at different holes around the course. Businesses can also flag their support for the hospice Golf Day by sponsoring a hole for £75.
Dodworth-based financial management company Lifetime have been headline sponsors of the whole Golf Day for the last nine years. Managing director Ian Dickinson said: "This will be the tenth year Lifetime has been the main sponsor of the hospice's Golf Day. It is a brilliant event that raises funds for a fabulous charity – as well as raising a few laughs into the bargain!"
Silkstone Golf Club has provided its facilities to the hospice for free since the fundraiser began. Club secretary Joanne Cotton said: "We are delighted to donate our facilities for such a worthwhile cause. The Golf Day is always one of the most enjoyable and successful events we host, with participants returning year after year to help raise substantial funds for Barnsley Hospice and the services it provides to our local community. Silkstone Golf Club is committed to continuing its support of the event for years to come."
To enter a team into the Barnsley Hospice Golf Day, or to find out more about hole sponsorship, please contact fundraising@barnsley-hospice.org.
Should the day fill up fast, businesses are encouraged to organise their own fundraising golf days through the hospice's Apprentice-like 'Accumulator Challenge' in May in which businesses compete to raise the most profit for the hospice from an initial £30 investment.
Should Covid-19 restrictions be re-introduced, the event will be postponed or cancelled and all participants will be kept fully informed.
Barnsley Hospice needs to raise over £2m each year to fund patient care and support for families. It relies entirely on charity donations to achieve this amount. An additional £1.6m is provided by the NHS Clinical Commissioning Group (CCG). Established in 1994, Barnsley Hospice provides compassionate, high-quality care for anyone in the borough with a progressive life-limiting illness, including cancer, motor neurone disease and heart disease.