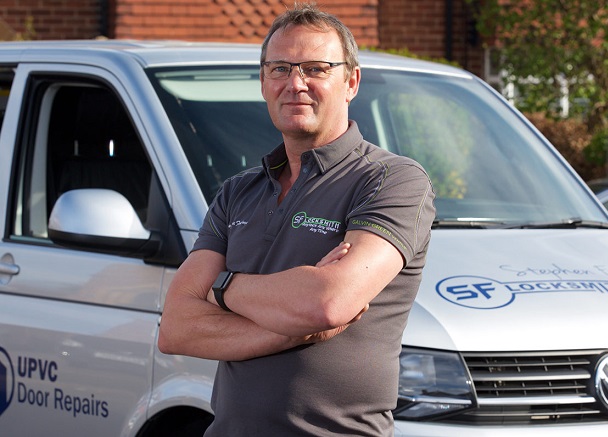 Posted 17 March 2021
Family firm SF Locksmith has become the latest local business to support Barnsley Hospice with a donation to patient care. We'd like to thank Stephen Fretwell for his company's donation.
Stephen said: "I have been serving Barnsley and the local community for many years now providing locksmith services. When the pandemic hit I was fortunate to be able to continue working, however I've seen first-hand the challenges businesses and individuals have faced with during this period. I really wanted to do something to give back to the community at this difficult time. I was inspired by the work of Barnsley Hospice and hope my donation is able to support their fantastic work."
SF Locksmith have over 20 years' experience providing locksmith services across South Yorkshire. Their services include lock repairs, lock replacement and lock fitting to both domestic and business customers. They are police approved and all work is guaranteed for two years. Please visit: www.locksmithbarnsley.co.uk
If your company would like to support Barnsley Hospice you can make a one-off donation or contact us about sponsoring a fundraising activity. You can also make 'gifts-in-kind' such as raffle prizes or skills you can offer the hospice. Our corporate fundraiser Simon Atkinson is happy to give advice about getting more involved as part of your CSR commitment; perhaps organising your own employee events, adopting the hospice as your charity of the year, or setting up payroll giving or referral schemes. Call 01226 244244 or email simon.atkinson@barnsley-hospice.org
Once again, thank you to Stephen of SF Locksmith for his kind donation, which helps us to care for patients with life-limiting illnesses and support their loved-ones. Barnsley Hospice is a charity and we need to raise more than £2 million a year to provide our services free-of-charge when they are needed to people in Barnsley.