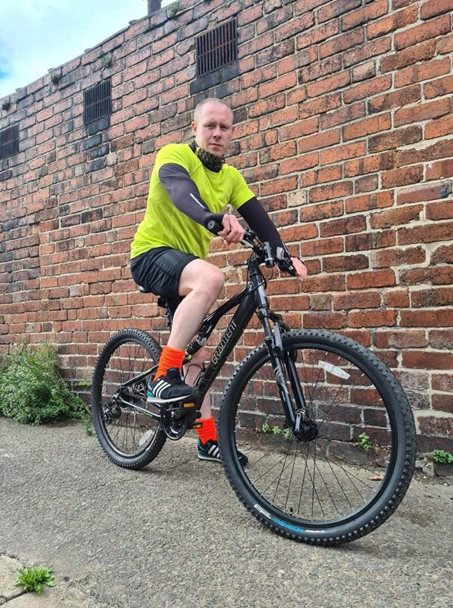 Posted 4 August 2020
PRESS RELEASE
Dedicated fundraiser Scott Thresh is dusting off his pedals to take on a 99-mile cycle challenge for Barnsley Hospice – ten years after he last got on a bike.
Scott will tackle the ride at the end of August in support of the charity, which is appealing for help following a huge drop in income due to the coronavirus pandemic.
To help save its summer of fundraising, and inspired by the iconic British ice cream, the hospice is inviting supporters to take on a challenge incorporating the number 99.
Scott, who lives off Racecommon Road and works at Freshpak in Wombwell, has taken part in previous team challenges for Barnsley Hospice – including a 24-hour treadmill relay. But the cycle, his take on the '99 challenge', will be his first solo fundraiser.
The 32-year-old said: "I wanted to do a personal challenge, something that would take me out of my comfort zone. Having not cycled for over ten years, this definitely does that!"
Scott has been training on a new bike gifted to him by friend Darren Gothard – who wanted to do something to support him in his challenge – and he is being coached by friend and colleague Gavin Coles, a long-time supporter of Barnsley Hospice.
He hopes to be joined by others on different legs of the ride, which will follow routes around Barnsley on Friday 28 August.
"I've been building up the distances slowly and I definitely feel fitter", said Scott. "It's good to get out on the bike as it's something positive with everything that's going on with the Covid-19 situation. It's good for the mind and it's nice to help such a great charity – after all, you never know if you might need it yourself one day."
Barnsley Hospice has launched the '99 challenge' as part of its Save Our Summer campaign, appealing for support after seeing many of its summer fundraising events cancelled due to coronavirus. The hospice also lost money from the temporary closure of its charity shops and is still losing around £2,300 per day.
Vicky Stead, community fundraiser at Barnsley Hospice, said: "We're really grateful that Scott is taking on this challenge for us and it's wonderful to hear how much his friends are supporting him. The money he is raising will make a big difference at a difficult time and we wish him all the best for his 99 miles."
You can sponsor Scott via his fundraising page here.
Barnsley Hospice provides compassionate, high-quality care for anyone in the borough with a progressive life-limiting illness, including cancer, motor neurone disease and heart disease.
The charity needs to raise over £2m each year to fund patient care and support for families. A further £1.6m is provided by the NHS Clinical Commissioning Group (CCG).