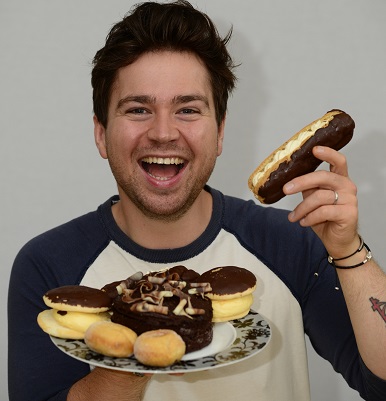 Posted 21 May 2020
TV presenter Sam Nixon is backing the Barnsley Hospice virtual Bake Off.
Sam is appealing to potential star bakers to get involved in our virtual Bake Off to help raise some 'dough' for Barnsley Hospice during the Covid-19 pandemic.
The hospice is losing £2,300 a day due to the Covid-19 crisis, and in March we launched an urgent appeal for funds.
Sam Nixon of Pop Idol, Celebrity MasterChef and CBBC's Junior Bake Off fame, has remained true to his Barnsley roots and is supporting the launch of the Bake Off for the third time.
He recorded a special message to his social media followers to encourage them to take part. He said: "Please get involved if you can and raise some much-needed funds for Barnsley Hospice."
Our fundraising manager, Sam Silverwood, said: "We are thrilled to have Sam's support again this year, albeit in very different circumstances.
"We know that during the lockdown many people have been perfecting their baking skills, so it's a chance for them to show off their best bakes while raising some vital funds for the hospice."
To enter the Barnsley Hospice virtual bake off, simply bake something delicious, post it to the Barnsley Hospice Facebook page or send it to fundraising@barnsley-hospice.org, donate £5 and nominate 5 people to take part. We'll choose a star baker on our Facebook page each week.
Barnsley Hospice, based in Gawber, provides high-quality, compassionate care for anyone in Barnsley with a progressive, life-limiting illness, including cancer, motor neurone disease and heart disease.
The hospice needs to raise over £2m each year to fund patient care and support for families. A further £1.6m is provided by the NHS Clinical Commissioning Group (CCG).