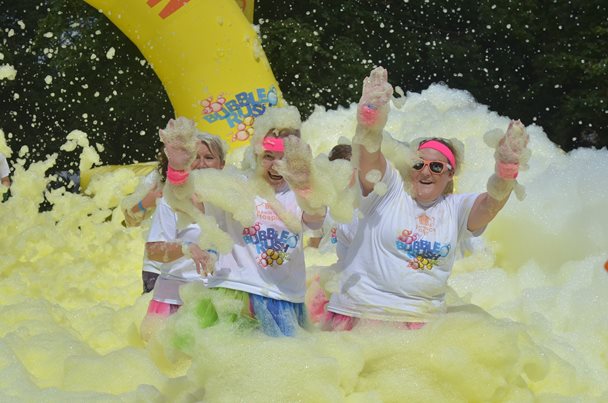 Posted 24 February 2020
The hospice is offering discounts on tickets for its biggest fundraiser of the year.
The Barnsley Bubble Rush returns to Locke Park in Barnsley on Sunday 12 July, with 'early bird' tickets now on sale.
Since the colourful event was launched in 2017 over £70,000 has been raised for the hospice.
Participants in the Bubble Rush are given white t-shirts which are turned multi-coloured by a range of different coloured bubbles as they navigate the 5km course. Medals are awarded to all finishers and fancy dress is encouraged.
Early bird entry is now available at a cost of £12.50 per adult and £8 per child. Family tickets are also available at a reduced price of £30. The early bird offer will run until Friday 13 March.
The entry price helps cover the cost of running the event, but participants are encouraged to raise as much money in sponsorship as possible for the hospice.
Sam Silverwood, fundraising manager at the hospice, said: "Since the Bubble Rush was introduced to Barnsley in 2017 it has proved immensely popular and become one of our most anticipated events.
"Our early bird prices are cheaper than they've ever been, so we're encouraging people to take advantage and book their place. It also gives you plenty of time to generate sponsorship money which helps us provide vital care for patients and their families."
To enter the Bubble Rush at the early bird rate, visit our event page or call 01226 244244.