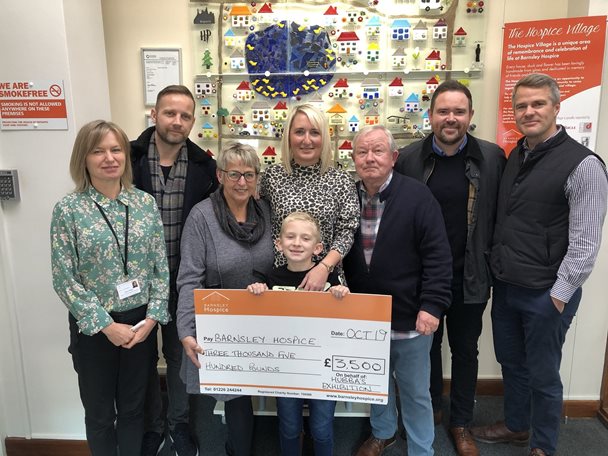 Posted 20 November 2019
A photographer from Barnsley has been remembered in a touching exhibition of his work, with proceeds from the sale of his prints going to the hospice.
Jonathan Booth, from Cundy Cross, affectionately known as 'Hubba', was cared for at the hospice in September 2018, before he died in hospital from cancer, aged just 38. He would have celebrated his 40th birthday on 1 November this year.
To commemorate Jonathan's life, his friends Gavin Lowe, Ashley Preece, Matty Heritage and Dan Brunt organised an exhibition of his work at The Civic in Barnsley.
The exhibition, which included an auction of Hubba's print and a raffle of prizes donated by the local community, raised £3,500 for the hospice. This included three framed auction images, and the sale of twelve further images which generated £1,600. Some raffle winners also re-donated their prizes so they could be auctioned off to raise further funds.
Gavin Lowe, 38, said: "The exhibition and auction was a massive success and provided a platform to display and enjoy Hubba's artwork. It was always his ambition to do an exhibition of his work but unfortunately, he never got the chance.
"He travelled all over Europe so that's where his passion for photography came from. There were some stunning landscapes on display, and they sold really well."
160 tickets were sold for the auction event, with guests travelling from as far away as Portsmouth and Scotland.
Gavin continued: "We were blown away by the amount of people who came along and supported the cause.
Our partners at The Civic were also fantastic – they fully supported this cause from day one and only asked us to cover the drinks costs, therefore any profit from the ticket sales also contributed to the final total.
"Hubba wanted to raise money for everyone who had looked after him. We are confident he is somewhere looking down, proud of his family, friends and the people of Barnsley."
Janet O'Hara, grants, trusts and legacies fundraiser at the hospice, said: "We're hugely grateful to Jonathan's friends for all their support. It was a brilliant idea to showcase the passion of one of our patients to raise money which will help the hospice continue its care. The support from the people of Barnsley and beyond has been fantastic and it's great to see that the fundraising total is still rising."
The exhibition at The Civic followed the production of a 2019 charity calendar of Jonathan's photographs, which generated over £1,000 for the hospice.
2020 calendars are now on sale, and Jonathan's photos like the one shown below are also available to buy online at www.hubphoto.net.
Photo (above left) shows from left to right: Janet O'Hara, Ashley Preece, Diane Booth (Jonathan's mum), Nicola & Finlay Cooper (Jonathan's sister & her son), Dave Booth (Jonathan's dad), Gavin Lowe & Dan Brunt