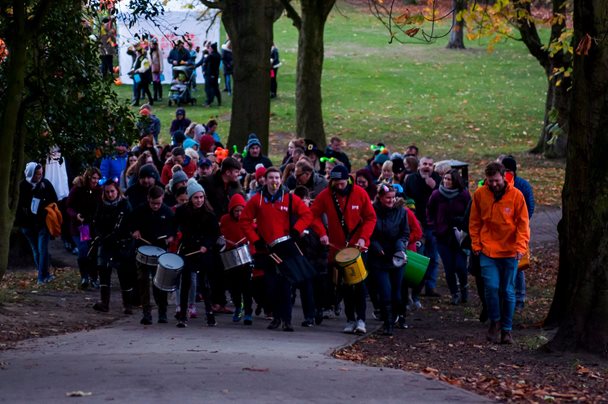 Posted 7 October 2019
Lanterns will light the way this Halloween as a group of 41 walkers remember a loved one.
The group aged from 2 to 55 years old, will take part in this year's Hospice Lantern Walk, in memory of Rod Parkinson from Wombwell, who died of lung cancer in September 2018.
Rod's friend and colleague, Sarah Tetley from Darton, organised the group who will walk the one-mile route round Locke Park on Sunday 27 October in his memory.
Rod was diagnosed with lung cancer in 2016 and was cared for at the Hospice.
His wife Helen and their children and grandchildren will join Sarah and her friends, family and work colleagues on the sponsored walk.
Sarah Tetley said: "Rod was a big family man and whenever I spent time with him, he would always share fond memories of his own children and grandchildren; they were the light of his life.
"After his diagnosis, I saw first-hand the love and care Rod and his family received at the hospice. It's such an amazing place that meant so much to him and his family.
"I would urge others to sign up to the event which will be fun for all the family. Everyone from babies in a pram up to grandparents can all take part in a steady walk together. It ticks all the boxes and we're really looking forward to it."
The walk will be led by Barnsley Percussion Ensemble Samba Band. Food and drink will be available, and fancy dress and trick or treating will be encouraged. There will also be rides, arts and crafts and a spooky disco courtesy of Dearne FM. Last year's event raised over £4,000.
Martyn Hughes, events fundraiser at the Hospice, said: "After the success of last year's event, it's great to see so many people signing up to our family walk which will help us continue to provide first-class patient care for patients and families in Barnsley.
"It's a chance for families and friends to come together to celebrate the life of someone close to them, or simply to make special memories together. We'd like to wish Sarah and the team the best of luck and thank them for their amazing support."
Entry to the walk is from 4pm for the fair and the walk will start at 5.30pm. Places cost £8 per person or £25 for a family of four. Entry includes a lantern, goody bag and fundraising pack. Little fundraisers who raise £50 or more will receive a certificate and special badge. Visit the Lantern Walk event page to book your place.
Photo credit: Kris Brannigan