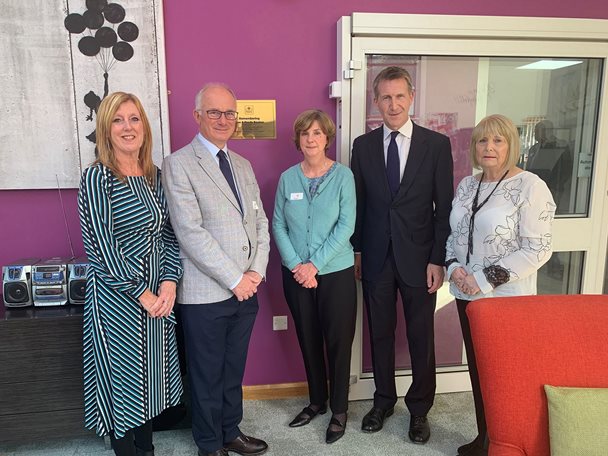 Posted 20 September 2019
The newly refurbished Inpatient Unit at the hospice was officially opened by MP and Sheffield City Region Mayor, Dan Jarvis this week (Thursday 19 September).
The £500,000 project to transform patient bedrooms at the hospice followed a successful appeal to raise funds.
Inpatient bedrooms have been upgraded to a luxury standard, helping patients and their families feel comfortable and relaxed during their stay.
Specialist beds, furniture and décor have been installed as part of the transformation, as well as new doors and windows with integral blinds to create a tranquil environment for patients and to allow nurses to deliver the best possible standards of patient care.
MP for Barnsley and Sheffield City Region Mayor, Dan Jarvis, spent time with staff, volunteers and patients during his visit. He said: "I've been a huge supporter of Barnsley Hospice for a number of years and, every time I visit, I'm inspired by the dedication of the hard-working staff and volunteers.
"It was a real privilege to open the new unit, which is a great addition to the hospice and provides even better facilities for patients and their families."
The money to fund the refurbishment project was raised through the hospice's 'Comfort and Care Campaign'. Grants from charitable trusts and donations from the Barnsley community were added to a £300,000 donation from the Morrisons Foundation.
Julie Ferry, chief executive of the hospice, said: "We'd like to thank everyone in the Barnsley community who raised funds towards our Comfort and Care campaign, and to the businesses and funders for their continued support in making this possible. These refurbishments will make such a difference to the people we care for and their families, helping them to be more comfortable in what can be an extremely difficult time."
During the ceremony, it was announced the Inpatient Lounge would be renamed 'The Booker Lounge' in memory of patrons and supporters Don Booker and his wife Freda. Don was editor of the Barnsley Chronicle at the time the hospice opened in 1994.
Photograph shows from left to right: Julie Ferry, chief executive, Stephen Alliott, Julie Alliott (Don and Freda Booker's daughter), MP Dan Jarvis & Carole Gibbard, Chair of Trustees.