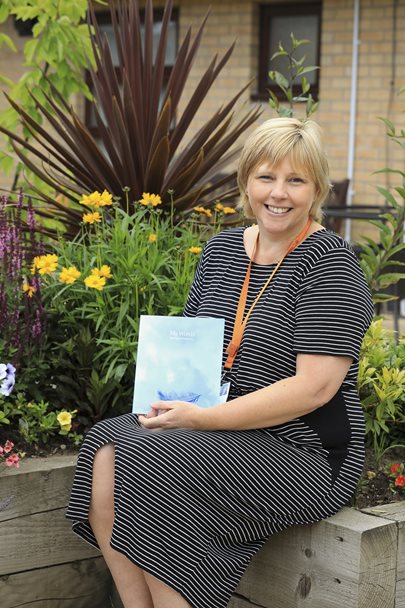 Posted 2 July 2019
A book of poems written by patients at the hospice has been published – with poet Ian McMillan hailing the anthology 'a moving and life-affirming collection'.
'My Words' is the result of a project which saw patients take part in sessions using poetry as a tool to support wellbeing, increase confidence and raise self-esteem.
Participants were encouraged to explore their experiences of living and dying, and sessions used objects, images and sounds to spark thoughts and feelings and stitch together words.
The book contains a selection of the poems which were crafted during group work with day therapy patients, and one-to-one sessions with patients staying in the hospice's In-Patient Unit.
Pam Parkin, 55, from Royston, attends the hospice's Limes Day Therapy Unit and helped produce some of the poems. She said: "After just ten minutes of the first session I was crying my eyes out; it was such good therapy. It's been an emotional rollercoaster, but an uplifting and happy experience too. I feel like it's really helped me."
The poetry sessions were facilitated by Mapplewell-based Diane Hinchliffe of Creative People Development. She said: "It was moving and humbling to be part of this project, which was less about rhyme and more about feeling and meaning. It's enabled us to produce an anthology that may help people feel less alone."
'My Words' was a partnership project between Barnsley Hospice, South West Yorkshire Partnership NHS Foundation Trust (Creative Minds), Hear My Voice, Barnsley Museums & Heritage Trust and Shawlands Trust.

In the production of the anthology, Diane engaged Barnsley photographer Gavin Joynt. Gavin worked alongside Diane with a small group of patients and supporting project staff to create original imagery based on shared ideas, and to connect photographs with poetry to give the book its final identity.
With support from Gavin, these shared ideas were then picked up by graphic designer Gary Baker of Baker & Vale to bring the final touches of the anthology design together.
An event to launch the book took place at the hospice on Wednesday 19 June, bringing together many of those involved. A number of poems were read out, some by the patients themselves.

Karen Watson (pictured left), therapy lead nurse at the hospice, said: "This project has given a voice to our patients, enabling them to say what is in their hearts and minds. It's touched a lot of people."
Ian McMillan, poet, playwright, broadcaster and former Poet Laureate for Barnsley, added: "This moving and life-affirming collection of poems shows us how important creativity is, opening doors at a time when all the doors around us seem to be closing. This wonderful book gives us language as a light against growing darkness."
Anthologies have been placed around the hospice for patients, staff and visitors to read. They are also available to purchase for £5, at the eight hospice shops across Barnsley and from the hospice reception. A selection of the poems and photographs have also been turned into artwork to display around the hospice.
Details of the hospice shops selling the anthologies can be accessed here.