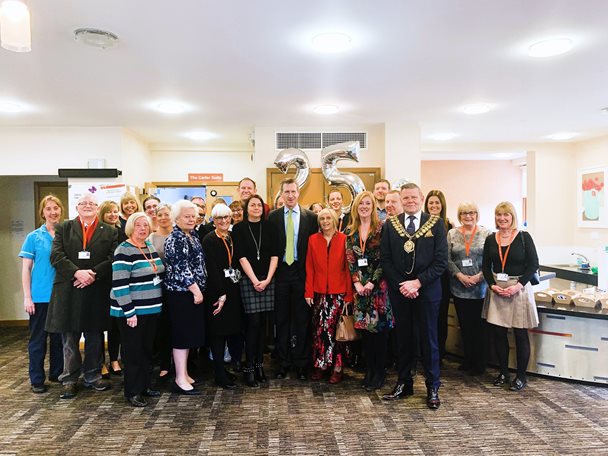 Posted 17 June 2019
We're celebrating a quarter-century of care with a celebration event at the hospice on Sunday 23 June – 25 years to the day since we opened our doors.
Everyone is invited to the open day to meet staff and volunteers, browse a pop-up charity shop, take part in arts and crafts activities and enjoy delicious refreshments from 11am-3pm.
The hospice has cared for thousands of people affected by progressive life-limiting illnesses, including cancer, motor neurone disease and heart disease.
In the last 25 years, over £9 million has been raised by people in the community and over £3 million has been left as legacy donations.
Limited-edition silver badges will be on sale at the event on Sunday 23 June to commemorate the anniversary.
A Forever Flowers Appeal will also commemorate the anniversary with hundreds of steel hand-crafted forget-me-nots available to buy from the hospice for a minimum donation of £25. The flowers will go on display at Cannon Hall Farm between 12th and 19th August, after which the owners can plant them in their gardens to remember a loved one.
A bespoke gin has also been created by Darton-based Waterton's Reserve Gin with 25 botanicals. Bottles will be available to purchase from Bottle & Co in Mapplewell with all profits going to the hospice.
Julie Ferry, our CEO, said: "I am so proud of what we have achieved together over the last 25 years. The hospice wouldn't be where it is today without the support of our fantastic trustees, staff, volunteers and fundraisers. Their support ensures we can continue to deliver specialist palliative care and support to patients and families in Barnsley for many more years to come."
In the year from 2017 to 2018 volunteers dedicated 30,438 hours of their time to the hospice. Jean Thompson-Banks has volunteered for us for over 25 years and will be one of six people to receive a special long-service award at the celebration event.
Jean said: "People often ask me how I can volunteer at a hospice where people are dying, but they don't understand what it's like here. It's a place of fun and of life."