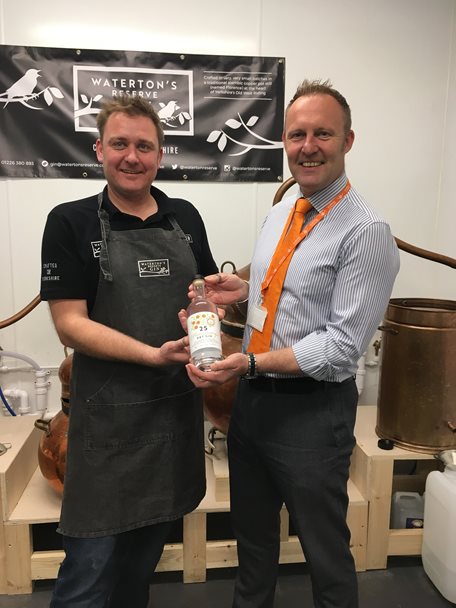 Posted 10 June 2019
A Barnsley distillery is launching a bespoke gin to commemorate the 25th anniversary of Barnsley Hospice and raise money for our care.
Darton-based Waterton's Reserve Gin has hand-crafted the spirit with 25 botanicals and gifted the initial batch to the charity to sell at our Peaky Blinders Ball this Friday, 14 June.
Guests at the event will be the first to taste the gin, which is made at the West Riding Distillery in Darton with spring water from Denby Dale.
Bottles will be available to purchase in sizes of 70cl and 20cl from Bottle & Co in Mapplewell and the owner, Jay Ashton, has agreed to donate all profits to the hospice. It will also be available at a selection of pubs and bars around Barnsley, including The Talbot and The Wentworth Arms in Mapplewell.
Dave Owens (pictured left), distiller and founder, Waterton's Reserve Gin, said: "As soon as I heard it was the hospice's 25th anniversary I thought it would be a great idea to craft a gin with 25 botanicals, which is quite a complicated process!
"I've only recently moved to Barnsley but I've heard so many wonderful things about the hospice so I thought this would be a brilliant opportunity to help them.
"Check the gin shelves when you're out and about as you won't just enjoy a fantastic and very small batch of gin; you'll also be raising money for a great charity."
Following the Peaky Blinders Ball, a percentage of each bottle or measure sold will be donated to the hospice and the distillery will make no profit from the sales.
Simon Atkinson, corporate fundraiser at the hospice, said: "We're really touched that this gin has been made just for us, and have seen first-hand just how much time and effort has gone into its production. We've also tasted it and can confirm it's delicious!
"We hope people around Barnsley will support us by buying a bottle or ordering a measure, and then raise a glass for our birthday."
We are celebrating our 25th anniversary with events throughout 2019 and tickets are still available for the Peaky Blinders Ball, which takes place this Friday, 14 June, at The Fairway in Dodworth.
The anniversary gin is hand distilled by Waterton's Reserve Gin, a sister company of Nailmaker Brewing Co.
Nailmaker Brewing Co. will be launching an anniversary ale for the hospice at the Wortley Beer Festival, which takes place 28-30 June.
Photo shows Dave Owens from Waterton's Reserve Gin with hospice corporate fundraiser Simon Atkinson.