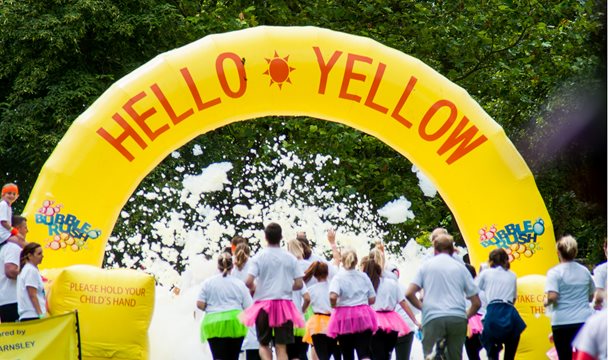 Posted 31 May 2019
A group of thirty Barnsley women are taking part in the Bubble Rush for the first time to show their support for the hospice.
The group of friends will complete the 5km fun run when it returns to Locke Park on Sunday 21 July. The event, which sees participants blasted with coloured bubbles around the route, has raised over £50,000 for the hospice since it was introduced in 2017.
Stephanie Guest from Cudworth is one of those taking part. She said: "As a group we try to raise money for a different charity each year and this year we chose to do one that was close to home and close to everyone's hearts.
"Everybody is touched by cancer and other life-limiting illnesses in some way – a lady I exercise with has just been diagnosed, and the care the hospice gives is vital.
"The hospice does so much for the local community, and I think it's important that we give something back. We're going to start fundraising very soon so hopefully between the thirty of us we can generate a significant total."
Participants, known as 'bubblers', are given white t-shirts to be turned multi-coloured by the bubbles, and medals are awarded to all finishers. Fancy dress is encouraged.
Martyn Hughes, events fundraiser at the hospice, said: "Events like the Bubble Rush are vital to ensuring we are able to continue providing care to the community. Each participant will receive a fundraising pack full of ideas to help you get the most out of your fundraising.
"Why not gather, friends, relatives or work colleagues together and take part in what is always a fantastic event, with lots of fun to be had?"
Entry is now available at a cost of £20 per adult and £10 per child, which includes a free t-shirt to wear during the event, and a medal at the end of the course. Family tickets are also available.
Click here to book your place now!