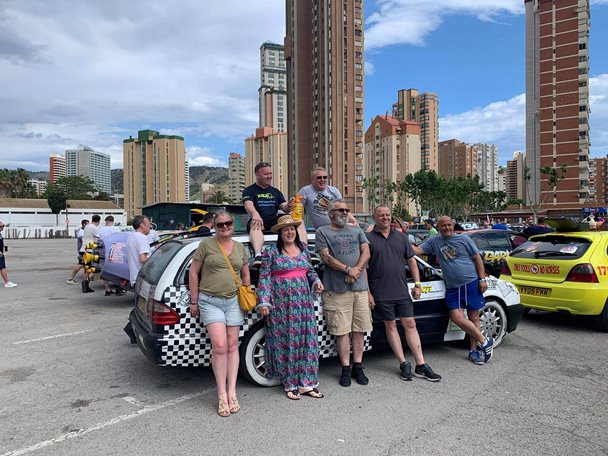 Posted 24 May 2019
A group of friends drove from Barnsley to Benidorm in £500 cars to raise money for the hospice.
Tracey Wainwright (pictured second from left) from Staincross, along with her husband and six friends, took on the 1,500-mile challenge between 15 and 18 May as part of the 'Benidorm or Bust' charity rally.
Almost 200 teams met at Dover and drove across France and Spain over four days, all to raise funds for the charity of their choice.
The group of eight from Barnsley were separated into two teams – the women's team, Disco Divas, in a £330 Jaguar S-Type, and the men's team, Skared, in a £510 Mercedes E-class.
Team Disco Divas made it as far as the Pyrenees before their Jaguar suffered gearbox failure. They were forced to continue in a hire car, but the Mercedes soldiered on to reach the finish line on the Costa Blanca.
Tracey, 51, said: "It started as a mad idea one of us had last summer, but we decided to go ahead and do it.
"It turned into an adventure for old people! The camaraderie between the teams was fantastic and the atmosphere was like nothing I've experienced before – it was just pure joy. When we broke down about five other teams stopped to see what they could do to help.
"We're very grateful to Tapfreight in Carlton and Enterprise Garage in Barnsley who kindly sponsored us."
The teams raised a total of £1200, which will be split between Barnsley Hospice, Wakefield Hospice and Macmillan.
Tracey added: "One of the team, Christopher Lilleyman, has just been diagnosed with bowel cancer, and thankfully he was well enough to join us, but we know how important hospice care is for people with cancer and other life-limiting illnesses.
"My previous husband was also cared for by Barnsley Hospice when he was terminally ill, and they gave him his dignity back. They supported me and my children in the darkest of times, so that's why we want to give something back."
Vicky Stead, community fundraiser at the hospice, said: "It looks like the guys had a fantastic time, and we're hugely grateful to them for choosing the hospice as one of their supporting charities.
"We're thankful for the support we receive from all corners of the community and it's because of people raising money through events like this that we are able to continue caring for the families that need us."