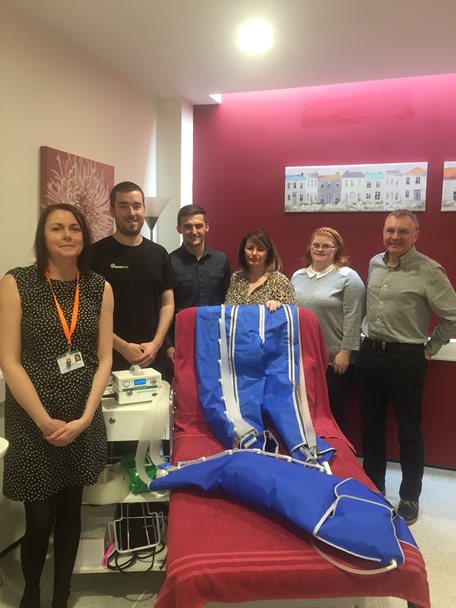 Posted 29 April 2019
The lymphoedema service at Barnsley Hospice has been boosted thanks to a donation of almost £3,000 from the Barnsley Round Table.
The money, raised from the club's annual bonfire event in the town's Locke Park, has been used to buy specialist lymphoedema equipment to help patients living with the long-term condition.
Lymphoedema causes swelling in the body's tissues and can be a side effect of cancer surgery. The hospice offers a self-management and support service – the only specialist service of its kind in the borough.
The £2,899 donation from the Barnsley Round Table has enabled the charity to invest in a new pump and garment system to help reduce symptoms associated with lymphoedema and improve quality of life for patients.
The donation was made in memory of long-standing and highly supportive club member Roger Potts, who lived in Oxspring. Roger sadly died in December 2018 after being diagnosed with Acute Myeloid Leukaemia in December 2017.
Roger's family visited the hospice last week to see the new equipment and hear how it will help patients. A spokesperson from the Barnsley Round Table said: "Roger was a fantastic member for many years, helping raise lots of money for the town he loved and donating to many good causes for Barnsley people.
"Roger is remembered as a great friend to many past and present Round Table members, and as a kind and very generous man. It was an honour to donate this money in his memory and we are proud to help make a difference to such an important charity within our community."
Janet O'Hara, grants, trusts and legacies fundraiser at Barnsley Hospice, added: "We're thrilled that the Round Table chose to support our charity, and this is a true example of money raised in the community being used to help others within it. The new equipment will make a big difference to our patients living with lymphoedema and we'd like to thank the club and everyone who supported their bonfire event in November last year."