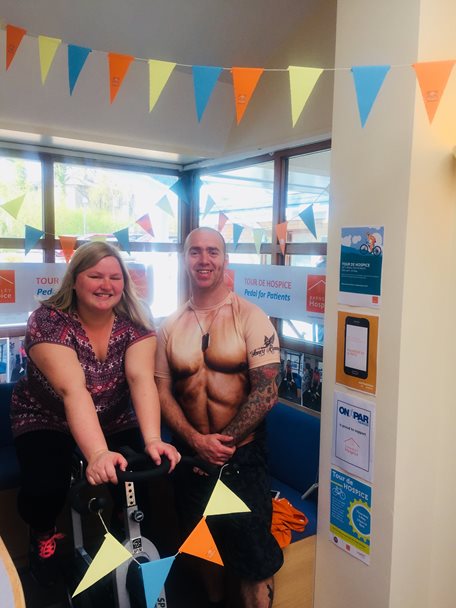 Posted 24 April 2019
A Barnsley family will be joined by friends to pedal for patients during a stationary cycle challenge to raise funds and awareness for Barnsley Hospice.
Members of the Coles family, and their friends, will keep the pedals going on an exercise bike in the town's Alhambra Centre for two days next week.
The 13 fundraisers, ranging in age from ten to late forties, will take turns throughout Thursday 2 and Friday 3 May, as part of the hospice initiative to coincide with the Tour de Yorkshire.
Dubbed 'Tour de Hospice', the event will see local businesses, volunteers, staff and supporters take turns on the bike for three days between 9.30am to 4.30pm, beginning on Wednesday 1 May. The Coles will take it over for the final two days.
Passers-by will be encouraged to find out more about the hospice and make a donation if they wish.
The cycle takeover is the latest in a long line of fundraising events by Gavin Coles and his family and friends, known as The Little and Large Charity challenges. The challenges, started by Gavin and his friend Steve Gilbert, have raised over £17,000 since they began in March 2017.
Gavin, of Darley Avenue in Athersley South said: "My wife's grandma was cared for at Barnsley Hospice two years ago and we have been fundraising for the charity ever since, roping family and friends in along the way. For some of those taking part in this challenge it will be their first time fundraising for us, but there will be lots of re-appearing faces too.
"We love the camaraderie of events like this and we're looking forward to this one being so public."
Last year, we staged a similar challenge in the reception of the hospice in Gawber.
Vicky Stead, community fundraising team leader at the hospice, said: "This year, we wanted to bring the challenge out into the community to raise awareness of our work as well as funds for patient care.
"The Coles have been huge supporters of the hospice for a long time and we're looking forward to cheering them on during this latest show of support. A big thanks goes to them, everyone pedalling on day one, and to the Alhambra for kindly offering us the space outside The Entertainer toy shop."
The bike has been donated for the challenge again by Brad Mellor of ON PAR, a fitness and rehabilitation gym based in Barnsley.
The Little and Large Charity Challenges are now sponsored by Barnsley-based roofing contractor K. Waddington & Sons.