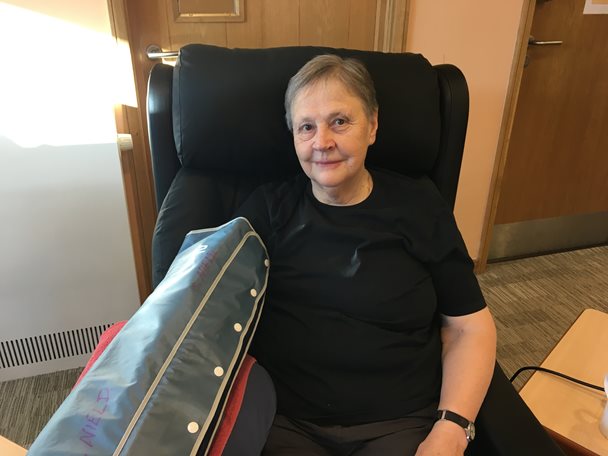 Posted 8 March 2019
As Lymphoedema Awareness Week continues, we ask patients about their experiences of the Barnsley Hospice lymphoedema service. Next up is Ann Hamblen, 70, from Crane Moor.
Ann is affected by lymphoedema in her right arm – a result of an operation to remove her lymph nodes following a diagnosis of inflammatory breast cancer.
She visits the lymphoedema drop-in session at the Hospice once a week to use the special sleeve which delivers a massage to relieve fluid build-up.
Ann said: "It really does help. I get my best night's sleep of the week after I've been here. I've had long-term contact with the Hospice because my partner's mum had ovarian cancer and spent quite a long spell here as an inpatient. I was diagnosed with breast cancer around the same time and the Hospice became the place we all went to for help. I already knew people here and I was offered a whole range of support which I'm very grateful for."
As well as attending the drop-in session, Ann also manages her lymphoedema through taking part in Tai Chi once a week at her local church hall.
She added: "The treatment at the Hospice takes just half an hour but I also like to sit around and chat with the other people here. Lymphoedema affects everyone differently so we all share our experiences. The social side is an important part of coming. We're all in the same boat. I've bonded with the other people at the clinic and it's really very precious time here."