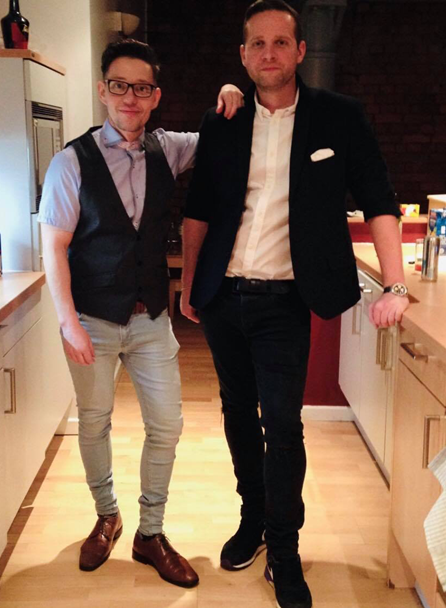 Posted 28 January 2019
A Barnsley body shop owner has generated over £1000 for Barnsley Hospice by producing calendars in memory of his friend.
Ashley Preece, 36, raised money in memory of Jonathan Booth, who was cared for by the hospice in September 2018 before he died in hospital from lung cancer aged 38. Jonathan was a keen photographer, so Ashley created a calendar from his portfolio, raising £1150.
Ashley, of Locke Avenue, Barnsley, was friends with Jonathan for 20 years and the pair used to DJ together around the town. Ashley said: "Jonathan did a lot for charity throughout his life. He received a Proud of Barnsley award in 2016 because he cycled from John O'Groats to Land's End and raised over £10,000 for Weston Park Cancer Charity.
"He always wanted to raise money for Barnsley Hospice because he was so well looked after when he was there, but he became too ill, so he was unable to do anything. He was a keen photographer, so I decided to create and sell calendars with some landscapes he'd taken to fundraise for the hospice in his memory."
Ashley, who owns Sprayed Ltd on Wombwell Lane, asked for £15 per calendar and only planned to make 25, but within 12 hours of advertising them on Facebook he had received over 100 orders from as far away as Scotland and Dubai.
"I was overwhelmed with the response," he added. "It was a really great feeling to have so much support. I think Barnsley people are like that – we really get behind each other especially if it's for a good cause like the hospice."
More of Jonathan's photographs will be on show at an exhibition at Barnsley Civic later this year. "I'm pleased that the Civic are on board and I'm hoping to raise more funds for the hospice from sales of his work along with the next edition of calendars for 2020," Ashley said.
Sam Silverwood, fundraising manager at Barnsley Hospice, said: "We're hugely grateful to Ashley for his support. It was a brilliant idea to turn the passion of one of our patients into something which could raise money to help the hospice continue its care, and the support from Barnsley and beyond has been fantastic."
Photo shows Jonathan Booth (left) and Ashley Preece (right).