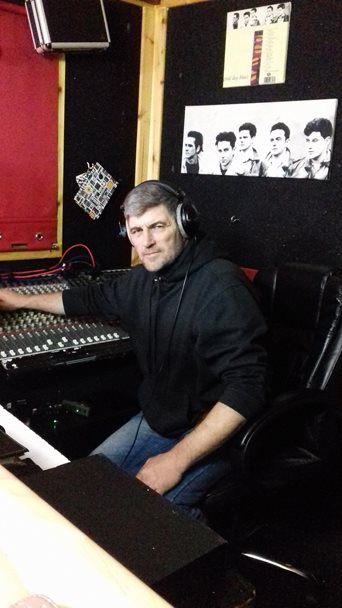 Posted 18 December 2018
A Monk Bretton music producer has released a charity Christmas song to boost funds and raise awareness of the work of Barnsley Hospice.
'B Hospice Shine' has been put together by Kevin McNamee, a roofer who works as a musician and music producer in his spare time.
Kevin, 52, was inspired to do something to support the hospice after his wife Susie began teaching chair aerobics to patients during 'feel good sessions' in The Limes day therapy unit.
He wrote the music and lyrics, brought six local singers including Georgie Harrison on board, and played most of the instruments on the track. He produced the video using footage taken at hospice events.
Kevin said: "It's only recently, through Susie, that I realised Barnsley Hospice has to bring in over £2 million each year to keep its doors open. It took me back a bit and so I wanted to do something to raise awareness of what the charity does and try and generate some money for them too. I thought the run-up to Christmas would be a good time to get people thinking about it all."
Kevin, who was signed to record label Polygram in his twenties, runs music production company Audiotierre alongside his day job as a roofer. He has a recording studio in his garden and works with vocalists in his spare time. Six of those singers, including Kevin's 12-year-old granddaughter Gabrielle Miller, perform on the track.
He said: "I felt nervous before I put the song online, and I've never felt like that with a track before. I just want people to like it. If it raises a few bob too that's great, but it's mostly about raising awareness."
B Hospice Shine is available to download at bhospice.bandcamp.com/releases for £1.50. It will also be available in CD format from the hospice's seven charity shops across Barnsley. The video that accompanies the track can be viewed on YouTube here.
Sam Silverwood, fundraising manager at Barnsley Hospice, said: "We have all been blown away by this really special song and by the effort that has gone into producing it. We'd like to say a big thank you on behalf of all our patients, staff and volunteers, to Kevin and everyone else involved in its production."
The singers featured on the track are Georgie Harrison (pictured below), Elise and Shannon McLean, Darren Gracie, Mollie McLean and Gabrielle Miller.