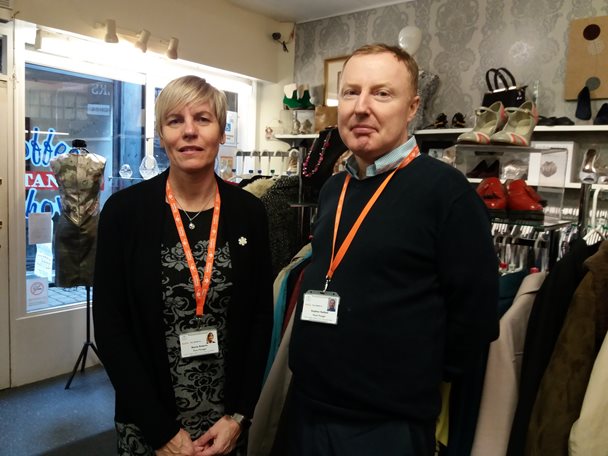 Posted 22 November 2018
Tucked away off Eldon Street in a quiet part of Barnsley Town Centre, the Victorian Arcade is home to our exclusive ladieswear shop. If you're looking to update your Christmas wardrobe, you'll find everything from quality evening dresses, coats and shoes to jewellery, bags and accessories – all at purse-friendly prices.
WATCH: Step inside the Arcade shop here.
The Arcade shop has been open since 1996 and generates over £100,000 a year, which all goes towards providing patient care. You'll find brands such as Laura Ashley, Hobbs and Jacques Vert, all for bargain prices. The shop also sells a range of DVDs, books and bric-a-brac.
Stephen Hatfield, retail manager at Barnsley Hospice, said: "You do get the cream of the crop in terms of the donations that we get because we know we can sell it in the Arcade shop. It sells a lot of really high-quality items and there are plenty of bargains to be had."
The shop is gearing up for Christmas, and all the festive items in stock are brand new. "It's coming up to glitz and glam season so if any ladies are wanting some Christmas outfits, come down to the Arcade, deck yourselves out and raise money for the hospice at the same time," Stephen said. "You never know what you might find and there will be lots of high-end brands available at bargain prices."
Val Hardcastle has worked for the hospice for 16 years and manages the Arcade shop twice a week. "We get some lovely customers coming in and some absolutely gorgeous stock," she said.
"People often come to us to buy evening dresses for cruises and they only wear them once or twice, so they return them to us and we can resell them."
The Arcade shop has won awards in the past for being the best charity shop in Barnsley. "As you look around you can see why, and it's credit to the effort put in by the managers and volunteers who work here," Stephen said.
The Victorian Arcade shop is open from 9am – 4pm Monday to Saturday. Stock donations can be made during opening hours, or at the Barnsley Hospice Donation Centre in Dodworth. To enquire about volunteer roles, call Barbara Cronin on 01226 323616 or email barbara.cronin@barnsley-hospice.org.
Photo shows retail manager Stephen Hatfield with Sherie Roberts, one of the Arcade shop managers.