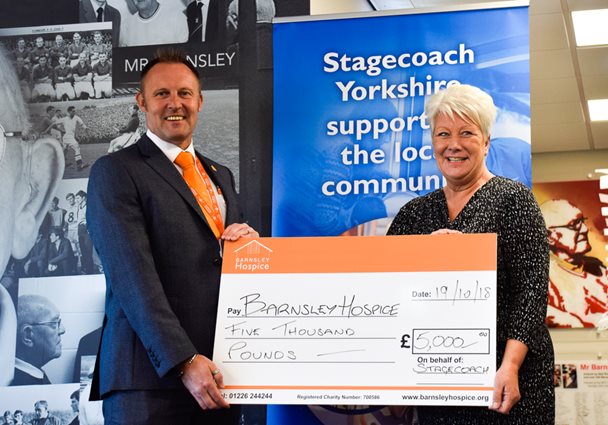 Posted 6 November 2018
Stagecoach Yorkshire drivers have donated £5,000 to Barnsley Hospice as part of an initiative to 'help change lives' for families in the local community.

Drivers from the Rawmarsh and Barnsley depots made the donation from the 'Employee Charity Fund', a collection of funds overseen by Union representatives and senior management, in aid of local causes.

Simon Atkinson, corporate fundraiser for Barnsley Hospice said: "We're delighted to receive such a generous donation from the drivers from Stagecoach. It's amazing when large companies show such wonderful generosity to local charities like us. It helps massively!
"This is a shining example of how important it is to help the local community. Supporting local charities like Barnsley Hospice can go a long way to helping a number of families going through a tough time. £5,000 is an incredible amount of money that will go a long way towards helping us provide vital care to the Barnsley community."

Stagecoach staff from Rawmarsh and Barnsley depot have supported local charities for many years, with previous fundraising activities including a bed push, car wash, raffles and competitions.

Sue Hayes, Operations Director of Stagecoach Yorkshire, said: "We take great pride in being a community focused organisation and playing our part in supporting the charities and organisations in our local area."