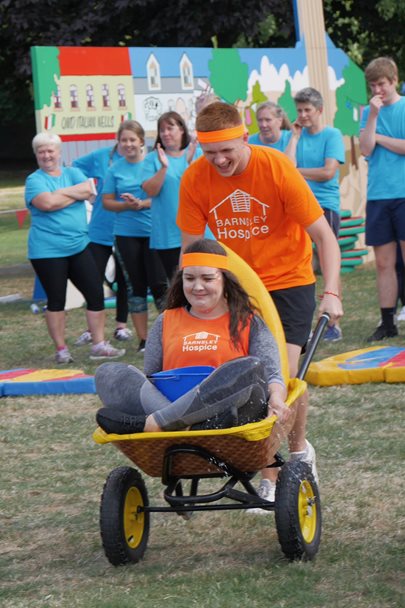 Posted 31 October 2018
Over £16,000 was raised from the return of Barnsley Hospice's It's a Knockout event – surpassing all expectations.
The sell-out event, held in Locke Park in August, was organised ten years after we last held the fundraiser in the town.
All of the sponsorship money has now been collected, revealing the total of £16,500.
Simon Atkinson, corporate fundraiser at Barnsley Hospice, said: "We are chuffed to bits with the incredible amount of money raised, which has exceeded all of our expectations. It's the icing on the cake as it was such a brilliant day. This is another example of the fantastic support we receive from the people of Barnsley, who never cease to amaze us."
A total of 26 teams took part in the obstacle event, with their entry fees and sponsorship efforts contributing to the fundraising total. Giant inflatables, foam and thousands of litres water added to the fun on the hot summer's day.
It's a Knockout returns to Locke Park again next year, on Sunday 4 August 2019.