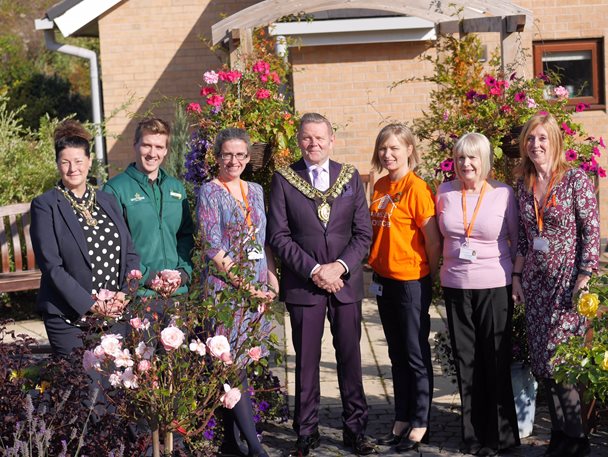 Posted 11 October 2018
A major project to transform patient bedrooms at Barnsley Hospice is underway, following a successful appeal to raise funds.
The refurbishment, which will cost around £500,000 will see all ten inpatient bedrooms upgraded to a luxury standard, helping patients and those close to them feel comfortable and relaxed during their stay.
Specialist beds, furniture and décor will create a peaceful and homely atmosphere, and new doors and windows with integral blinds will allow nurses to deliver the best possible standards of patient care. New en-suite wet rooms, air conditioning and flooring will create a comfortable environment and there will be a designated overnight stay room for family members.
The refurbishments are expected to take six months. Barnsley-based building contractors CD Potter and Sons have been appointed to carry out the work, which will take place over four phases to allow inpatient unit services to continue.
The money to fund the project was raised through the hospice's 'Comfort and Care Campaign', which launched last November. Grants from charitable trusts and donations from the Barnsley community were added to a £300,000 funding injection from the Morrisons Foundation, a charity set up by the Bradford-based supermarket.
The Mayor of Barnsley, Cllr Steve Green, officially launched the refurbishment work on Wednesday 10 October, when he visited the hospice to mark the national initiative Hospice Care Week. Along with the Mayoress, Mrs Tracey Green, he also spent time with staff, volunteers, patients and family members.
Jan Walker, patient services director at Barnsley Hospice said: "These refurbishments are going to make a huge difference to the people we care for, helping them feel more relaxed and comfortable in what we are hoping will be a real 'home from home' environment.
"This wouldn't be possible without the incredible fundraising efforts of the Barnsley community and we are all so grateful for their support of the Comfort and Care Campaign."
The transformation of the bedrooms will be the first time they have been fully refurbished since the inpatient unit opened in 2001.
Mary Brown, 65, of Broom Close in Kendray, has lung cancer and has been staying at the hospice for the last five weeks for symptom management. She said: "I can't wait to see what the rooms will look like when they are all done. I think it's marvellous now, but it will make a big difference. The care here has been unbelievable and I've even been able to have my dog visit a few times. I'm being looked after 24/7 and am now strong enough hopefully to return home next week."
Speaking during the launch of the work on Wednesday, Cllr Steve Green, Mayor of Barnsley said: "The inpatient room will look fantastic when it's all complete and I've really enjoyed my visit here today. It's such a happy place, with so many smiling faces. There has been massive support of the Comfort and Care campaign from the Barnsley community which is great because no matter who we are, we can all relate to the hospice."
Sam Burden, Morrisons Foundation specialist, added: "We support charities which make a positive difference in local communities and we know that Barnsley Hospice does just that. We're delighted to have supported this refurbishment project, which will make a real difference to patients and their families during difficult times."
Photo shows from left to right: The Mayoress, Mrs Tracey Green; Sam Burden of the Morrisons Foundation; Dr Clare Farrington, consultant at Barnsley Hospice; Mayor of Barnsley Cllr Steve Green; Barnsley Hospice fundraiser Janet O'Hara; Carol Gibbard, Chair of Trustees at Barnsley Hospice; Julie Ferry, CEO of Barnsley Hospice.