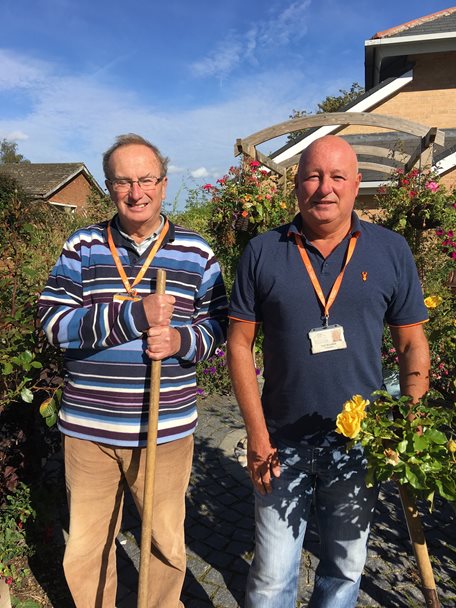 Posted 3 October 2018
Volunteers are celebrating after the Hospice received a gold award for its gardens for the sixth year in a row.

We won the top prize in the 'charitable establishment' category of the 2018 Yorkshire in Bloom awards.

Volunteer gardeners Terry Winter and Paul Woodhall (pictured left) attended a ceremony on 25 September at Barnsley Town Hall where they were presented with the award.

Paul, 62, from Denby Dale and Terry, 71, from South Hiendley have been volunteering in the hospice gardens for 11 years between them.

"We're so pleased and proud to win this award for the sixth year running," Paul said. "It has been tough this year because Terry and I have mostly maintained the gardens on our own. We used to be a team of six, so to win again is amazing."

Terry said: "It's not an easy job but the comments and reactions we get from patients and their families make everything worthwhile. We just want to give them a quiet and peaceful environment that they can enjoy."

Barbara Cronin, volunteer co-ordinator at Barnsley Hospice, added: "It's fantastic that Paul and Terry have been recognised for their hard work. Our volunteers are the heart and soul of the hospice and their help is vital.

"The gardens are very important for the patients because they provide a pleasant view from the inpatient unit, and patients and their families can spend time outside in lovely surroundings."

The hospice is looking for more volunteers to join the gardening team. To find out more, contact Barbara Cronin on 01226 323616 or at barbara.cronin@barnsley-hospice.org.
The hospice gardens were extended in July 2017 thanks to £25,000 of funding from The Liz & Terry Bramall Foundation and Wakefield & District Health and Community Support Ltd.