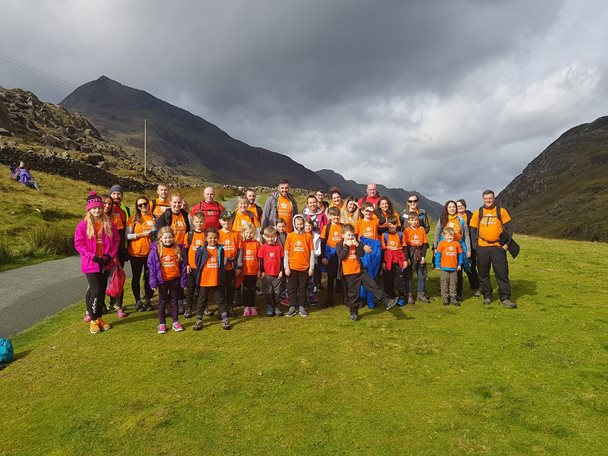 Posted 18 September 2018
Young fundraisers from a children's walking club have scaled Mount Snowdon to raise money for Barnsley Hospice.
The Barnsley 'School of Walk', made up of 14 children aged 5-13 and their parents, completed the seven-mile trek to the summit of Wales' highest mountain on 15th September.
Rob Cartwright from Redbrook, who runs the walking club, said: "It was a brilliant day – every child was a pleasure to take up the mountain and they all did it without any help from the parents.
"I'd like to thank everyone for coming along and helping raise as much money as possible for Barnsley Hospice. I would also like to thank Procter Electricals, Regency Garden Buildings, and Regal Service Group for their support in making the walk possible."
Rob set up the walking club in May after interest from family and friends. The group, which has members from across Barnsley, meet once or twice a month and enjoy walks across Yorkshire and Derbyshire.
"I have been taking my five-year-old son Reggie out on adventures ever since he could get into a baby carrier. He has climbed many different mountains with me, including Snowdon three times," Rob said.
"Our aim is to get children out and about in the countryside and appreciate what we have on our doorstep, and also to get them more active."
Rob's son Reggie is no stranger to fundraising for the hospice. In July, the enterprising youngster set up a lemonade stall in his back garden, raising over £250 for patient care.
"Barnsley Hospice is our nearest local charity and we've always appreciated the amazing work they do for the people of Barnsley, so we want to try and give them something back in return," Rob said.
"Now that we've completed Snowdon, we'll definitely be looking to do more fundraising events with the School of Walk."
Vicky Stead, community fundraising team leader at Barnsley Hospice, said: "We are incredibly grateful to everyone from the walking club for their fundraising efforts, and to all the generous people who sponsored them. Our care couldn't continue without people doing their bit to support our services. Everyone who completed the walk should be proud of what they've achieved."
To sponsor the School of Walk, visit https://www.justgiving.com/fundraising/schoolofwalk