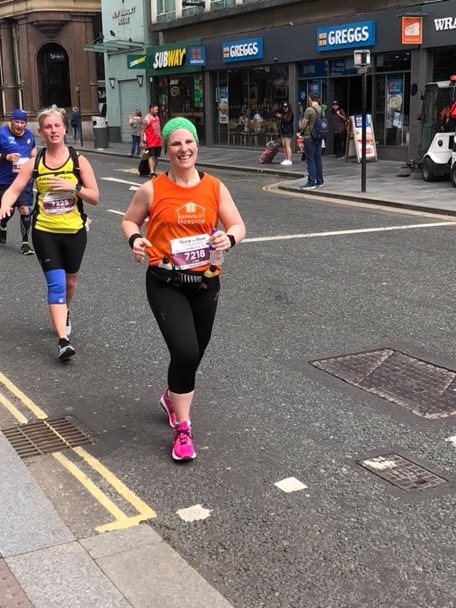 Posted 4 September 2018
2018 saw the hospice named TSB Barnsley's Local Charity Partner for the second year running – securing another 12 months of support for patient care. Here, we take a closer look at how they have been helping us.
The team at TSB on Market Hill have been busy holding raffles and bake sales to support the hospice, but manager Lynn Stephenson (pictured left) went the extra mile (or 26) by running her first-ever marathon.
Lynn completed the Liverpool Rock and Roll marathon in May, raising £305 for the hospice.
"It was a really hot day so that made it very tough," Lynn said. "There was water provided but it was warm so it was so difficult to keep cool and it became more of a mental battle to keep going towards the end.
"I've done half marathons before but I didn't really factor the heat into my training so I wasn't as fast as I'd hoped, but I finished which was the main thing."
Lynn's marathon is just one of a number of fundraising events the team at TSB have held for the hospice this year.
"We've had raffles on Valentine's Day and at Easter, we've held bake sales and we're planning something around Halloween later in the year," Lynn said.
"Overall we've raised over £1000 so far this year, but we've still got another four months to go, so we're delighted with the support from our customers."
TSB Barnsley's Local Charity Partner is voted for by customers, who chose the hospice for the second year running.
"We ask our customers each year which charity they'd like to support. I think a lot of people are touched by the work the hospice does and are passionate about helping them continue to provide care," Lynn said.
"It's a huge asset to Barnsley and is clearly very important to our customers so we want to raise as much money as we can."
Simon Atkinson, corporate fundraiser at Barnsley Hospice, added: "We would like to say a huge thank you to Lynn, her staff and TSB customers for their fundraising efforts so far this year. Lynn's determination to complete her first-ever marathon for the hospice is incredible and the money raised by TSB will make a real difference to the patients and families we care for."
For more information about fundraising at work for Barnsley Hospice, contact the Fundraising team on 01226 244244 or click here.