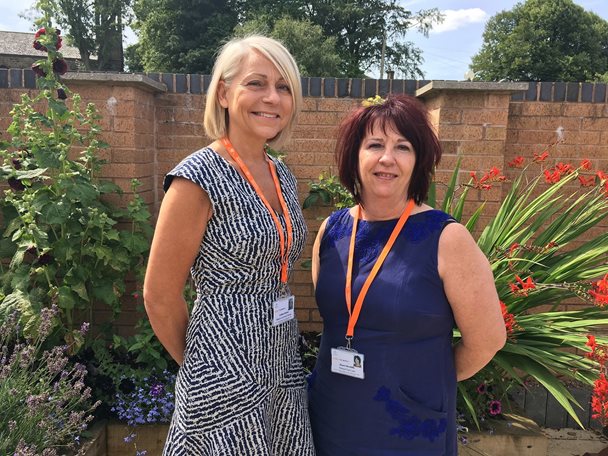 Posted 8 August 2018
Barnsley Hospice has appointed two new staff members, complementing the care it provides for people with life-limiting illnesses.
Diane Hinchliffe has taken on the new role of pastoral care lead – supporting the emotional and spiritual wellbeing of patients, family members, staff and volunteers – and Lindsey Dutton has been appointed as a palliative social worker.
Diane, who lives in Mapplewell, began volunteering at the hospice ten years ago before being employed on a project basis to facilitate poetry therapy sessions. Her new permanent role sees her work as part of the Family Support Team, helping those who come into contact with the hospice.
She said: "It's really important to look after our emotional and spiritual wellbeing, especially when facing serious illness. My role is to create space for everyone to explore questions they have, for example about life, living, death and dying, and I'm looking forward to connecting with people around the hospice and the community."
Palliative social worker Lindsey Dutton lives in Redbrook and joins the hospice from a similar role at Barnsley Hospital. Based within the Inpatient Unit, her work focuses on safeguarding and decision-making, as well as supporting patients to return home if they can.
Lindsey said: "I'm finding the hospice a very uplifting place to work, which is probably not what a lot of people would expect it to be! I'm really enjoying getting to know the patients and understanding their circumstances and situations and I'm looking forward to spending more time with them to support their needs."
Julie Ferry, chief executive at Barnsley Hospice, added: "Both Diane and Lindsey are important additions to our diverse and dedicated staff team, and I'm looking forward to seeing their roles enhance the care we offer to patients and their loved ones in Barnsley."
Pictured left to right: Lindsey Dutton and Diane Hinchliffe