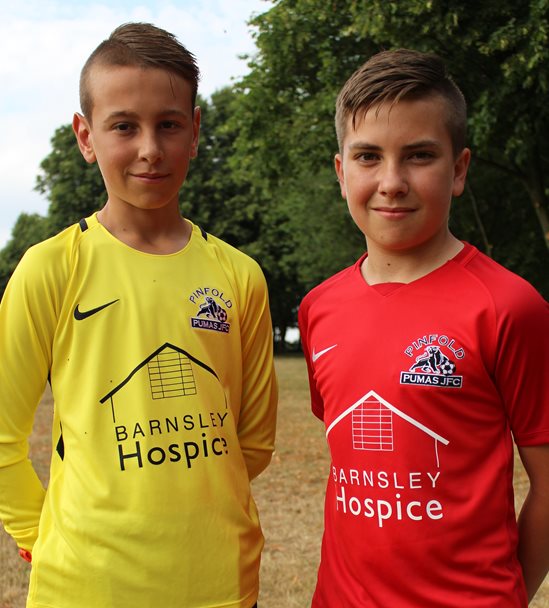 Posted 31 July 2018
Members of a South Yorkshire youth football team will play with the Barnsley Hospice logo emblazoned on their chests – thanks to the fundraising efforts of their manager.
Ben Rowe, manager of the Pinfold Pumas under 13s team in Cudworth, has raised the money they would normally get from kit sponsorship through a body wax and a race night. He was keen for the team to show its support for the charity in return for the care his mother received at the hospice 13 years ago.
Ben, 29, a taxi driver who lives on Ollerton Road in Athersley North, manages the youngsters in his spare time. His mother, Bev Rowe, died from bowel cancer at the hospice when he was just 16 and he has supported the charity ever since.
Some of the players also have personal connections to the hospice and all 15 of them will wear the shirts when the new season kicks off in September.
Ben said: "Mum was cared for at Barnsley Hospice for two weeks and I didn't know a thing about what they did until then. What surprised me was how happy and positive it was there, despite there being so many poorly people. The staff really tried hard to lift everyone's spirits up and they were really good with the whole family too, not just my mum."
Ben generated £155 for the shirts from his sponsored body wax, which saw players and their parents tasked with pulling off the waxing strips. The race night he organised at the Dorothy Hyman Sports Centre in Cudworth on July 27 raised £596.
Ben said: "The waxing felt like a big challenge. The strips weren't pulled off properly so it really hurt and one of the hardest bits was getting all the left-over bits of wax off in the shower afterwards!
"Everyone has chipped in really well with the fundraising for the shirts and I think it's' really important that people in Barnsley support each other – that's what it's all about."
Ben has raised money for the hospice ever since his mum died and other personal challenges have included taking part in the Manchester Marathon and a sponsored head shave.
Simon Atkinson, corporate fundraiser at Barnsley Hospice, said: "We're really touched by the effort that Ben and the team have gone to in order to play with our logo on their shirts. It's fantastic to have our profile raised in the local community in this way and we wish the young players all the best for the new season – we hope our logo brings them luck!"
Image shows players Jack Spencer-Lomax (left) and Owen Wilson modelling the new kit.