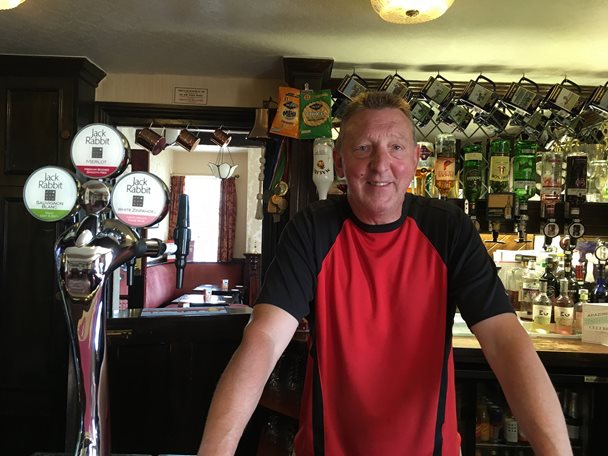 Posted 25 July 2018
The owners of a South Yorkshire pub are celebrating hitting a £30,000 fundraising milestone for Barnsley Hospice – just two months before they retire.
Phil and Vikki Hickling have run The Milton Arms in Elsecar for 33 years and, with support from their customers, have been generating income for the charity since 2013. Fundraising activities have included sponsored cycles, walks, marathons, collections and auctions.
The pair are retiring at the end of the summer, when the pub will be taken over by its new owners, Sheffield-based True North Brewing Co.
Phil, 62, said: "We've done all sorts to help the hospice but the main thing that's made it so successful is that we've got customers who give so generously. It wouldn't have been possible without them. There have been a lot of blisters from the fundraising challenges over the years, but they are all good memories!"
The pub's final fundraiser for the hospice will be its annual harvest festival auction on Friday 21 September. The event, now in its 12th year, sees donations of food, drink and experiences auctioned off during an evening extravaganza which raises around £3,000 each year.
Phil said: "We'll be sad to leave the pub after 33 years but we've made so many memories from all the fundraising and I hope the new owners will carry on the good work. The support we've had in return from Barnsley Hospice for our events has been second-to-none and we won't forget that."
Vicky Stead, community fundraising team leader at Barnsley Hospice, added: "We would like to say a huge thank you to Phil, Vikki and all of their customers for their truly amazing efforts over the last five years. Their dedication has been astounding and they have made a real difference to the patients and families we care for. We wish Phil and Vikki all the best for their retirement – they deserve it!"
The money raised from the Barnsley community helps the hospice provide specialist care for anyone in in the borough with a life-limiting illness, including cancer, motor neurone disease and heart disease. The charity has to raise £2.2m each year to care for patients and their families, in addition to a £1.6m grant from the NHS.
For more information about the harvest festival auction, contact the Milton Arms on 01226 742278.