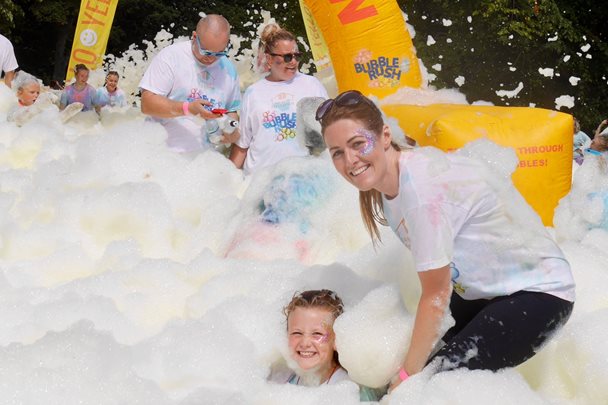 Posted 23 July 2018
Locke Park was transformed into a rainbow of bubbles as over 1500 people gathered for Barnsley Hospice's biggest fundraiser of the year.
The 5km 'Bubble Rush' fun run took place on Sunday 22 July, and is expected to beat the £30,000 fundraising total from the inaugural event in 2017.
Participants, known as 'bubblers', were given white t-shirts that were turned multi-coloured by four bubble stations, which were sponsored by Perfect Blinds, Copier Systems, Blue Line Taxis and Dean Forward Motorsport.
Martyn Hughes, events fundraiser at Barnsley Hospice, said: "The support from the Barnsley community for this event has been outstanding and it felt quite emotional at times seeing just how many people turned up to support the hospice.
"The Bubble Rush has now secured its place as our biggest event of the year and we'd like to thank everyone involved in making it such a huge success."
Participants are now being encouraged to submit their sponsorship money as soon as possible, with every penny helping the hospice care for patients and their families.
Photo shows Sam Silverwood and her daughter Libby enjoying this year's Bubble Rush in Locke Park (photo credit: Tim Cragg).