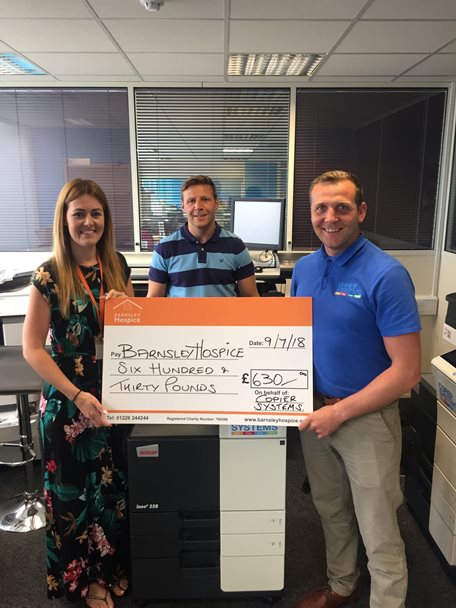 Posted 16 July 2018
Darton-based photocopier supplier Copier Systems has raised £630 for Barnsley Hospice from its annual charity golf day.
The money raised from the event will help the hospice provide specialist care for patients and their families.
Copier Systems has run the golf day since 2015. Managing director Ryan Eastwood said: "All the team look forward to our annual golf day and it's made even more worthwhile knowing that we're raising vital funds to provide care for patients and their families in Barnsley. We are delighted to have raised so much this year and have already started planning for 2019."
Copier Systems is also sponsoring a foam station at the hospice's Bubble Rush fundraiser, which returns to Locke Park on 22 July. Last year's inaugural event saw almost 1400 people tackle the 5km bubble-filled fun run, raising over £30,000 in sponsorship.
Sam Silverwood, fundraising manager at Barnsley Hospice, said: "Copier Systems are dedicated supporters of the hospice and we are extremely grateful to them for their fantastic fundraising efforts again this year."
Photo shows from left to right: Sam Silverwood of Barnsley Hospice and Ryan Eastwood and Rob Eastwood of Copier Systems.