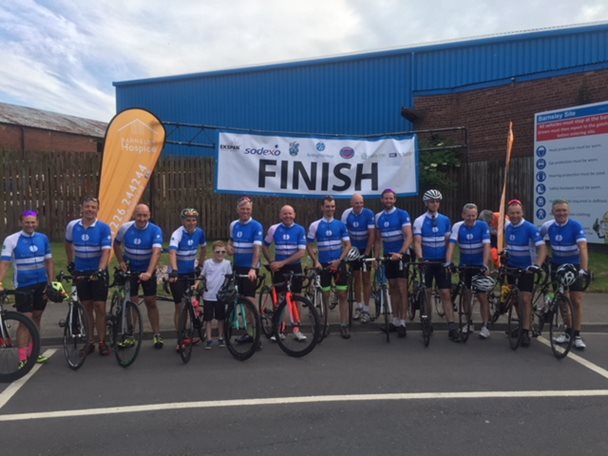 Posted 26 June 2018
A team from South Yorkshire glassmakers Ardagh Glass have completed an epic running and cycling challenge to raise money for Barnsley Hospice's Comfort and Care campaign.
A group made up of 13 staff from the Barnsley and Doncaster plants rolled into Ardagh's Monk Bretton glassmaking plant on 9th June after completing a 265-mile ride from their base in Irvine, Scotland.
Phil Riggett, training officer at Ardagh Group Barnsley, said: "A work colleague was cared for by the hospice before he sadly lost his battle, and his final wish was that we support them. That's why we've named the hospice our charity of the year and all charity fundraising generated from Ardagh's Barnsley plant will go towards the Comfort and Care campaign in his memory."
The hospice's Comfort and Care campaign aims to raise £100,000 to refurbish ten inpatient bedrooms with improvements including specialist beds, integral hoists, air conditioning and piped oxygen.
Phil said: "We did ten hours of cycling on the Friday and nine hours on Saturday to complete the challenge. Thankfully the weather was kind to us!"
Their two-wheeled achievement follows another group of Ardagh employees completing the Sheffield Half Marathon in April.
The team have raised around £7,000 from the cycle challenge and half-marathon so far and are aiming to reach £10,000 by the end of the year.
Simon Atkinson, corporate fundraiser at Barnsley Hospice, said: "The effort and determination the Ardagh team has shown is outstanding.
"The hospice relies heavily on donations from local businesses to enable us to continue supporting patients and their families. We're hugely thankful to everyone at Ardagh who took part in what was an epic challenge – the physical effort the team put in was amazing."
You can support Ardagh Glass with their fundraising by visiting www.justgiving.com/ ardaghbarnsley2