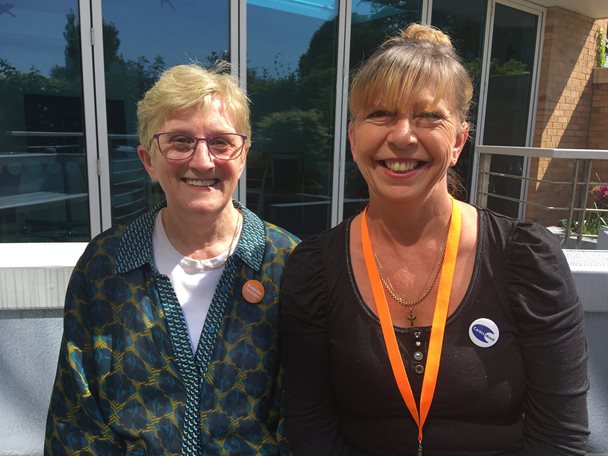 Posted 11 June 2018
People who care for a loved one with a life-limiting illness are being supported by a special group set up by Barnsley Hospice.
The carers' group runs at The Limes Day Therapy Unit from 2-4pm every Tuesday and gives people free access to specialist advice about issues including benefits, moving and handling, mental health and self-care. It also provides an opportunity to meet other carers and share experiences and support.
The group is open to anyone in Barnsley who cares for someone with a life-limiting illness and no referral or appointment is needed; carers can simply drop in as and when they wish.
The group, which has been running since October 2017, is facilitated by Michele Jackson, a social worker at the hospice. She said: "We set up this group to ensure people feel valued and supported as carers, and to give them an outlet to talk about anything they wish.
"Patients and their families are at the centre of everything we do at Barnsley Hospice and we'd love to be able to support even more carers through this group. It's just a case of making people aware that it exists, and that it's there to help them too."
Beatrice Williams, 66, lives in Monk Bretton and was a carer for her husband Stephen, until he died earlier this month at the age of 65. He lived with dementia, blood clots and melanoma, and the couple had been married for 30 years.
Beatrice said: "Steve used to attend patient sessions at the hospice, which would allow me to go and do the shopping, but when he became too weak, coming to the group was an opportunity for me to have a break too. I had to arrange for someone else to sit with him while I attended but it was worth it."
Beatrice attended the carers' group with her sister and said that if it didn't exist, she would have been at home all of the time.
"I enjoyed it as I could talk about anything – not always about my role as a carer – and we had a laugh too. The group allowed me to have conversations that I just couldn't have at home and it was just positive in every way."
The hospice is promoting our carers' group to coincide with Carers Week 2018, which runs from 11-17 June. The annual national campaign aims to raise awareness of caring, highlight the challenges carers face, and recognise the contribution they make to families and communities throughout the UK.
Beatrice added: "I did have professional carers who popped in a couple of times a day but everything else was down to me. I even slept in the living room with Steve every night, on the sofa. It did take its toll on me, but he couldn't help it. I don't think people understand the commitment that you have to put into caring for someone."
To find out more about the carers' group, call 01226 244 244 or simply drop in between 2-4pm every Tuesday.