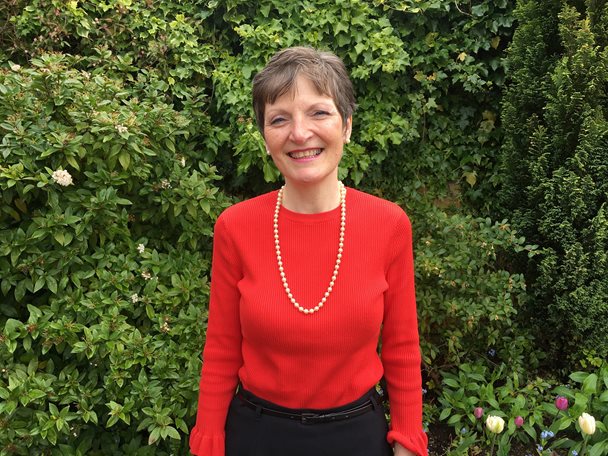 Posted 5 June 2018
A South Yorkshire woman living with cancer is taking part in the Barnsley Hospice Bubble Rush to say thank you for the care and support she receives.
Pam Parkin, 55, of Royston in Barnsley, has secondary breast cancer in the liver and attends the hospice's Limes Day Therapy Unit. On 22 July, she will join over a thousand other fundraisers at the 5km fun run in Locke Park for the second time, after completing the course at the inaugural event last year.
Pam said: "The care I've received at the hospice has been marvellous so this is my way of saying thank you. And it was so much fun last year that I can't wait to take part again. There was something electric about it all, and there was such a fantastic atmosphere. It was a joyous, lovely day and I felt like I'd achieved the world when I was given my medal at the end."
Pam has been attending day sessions at the hospice for the last 12 months, learning more about her illness and the treatments available. Along with other patients, she takes part in activities including crafts, poetry and singing – and, as well as receiving support from nurses, she is able to access complementary therapists, counsellors and a social worker.
"I didn't know what to expect when I first started visiting the day unit, but it's a very safe environment", she said.
"I feel like I'm in a little bubble when I'm here. When I tell people I go to a hospice they give me a sympathetic look, but they don't realise how uplifting and inspirational it is.
"As well as making new friends it's opened new doors and helped me develop new interests. I get looked after so well by Barnsley Hospice so taking part in the Bubble Rush helps me feel like I'm giving something back."
Pam will be joined at the Bubble Rush by colleagues from Nat West, including those from the Barnsley branch where she has worked for 39 years, and the local CEO and regional director.
The group will walk the course together for the second time, after raising £2500 between them last year.
More than 1300 people have signed up so far for this year's Bubble Rush, which will see walkers and runners blasted with coloured bubbles as they make their way around the 5km course.
Limited spaces are still available in the 12pm, 1pm and 2pm waves, at a cost of £20 per adult and £10 per child. Discounted family tickets are also available.
Participants are encouraged to raise as much as they can in sponsorship, to help the hospice care for patients and their families. To enter, or to find out more, visit the Bubble Rush page or call 01226 244244.