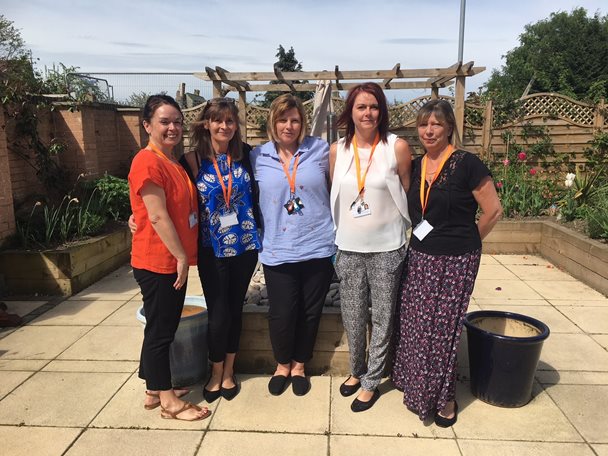 Posted 22 May 2018
'Feel Good' therapy sessions including singing, crafts, poetry and make-up lessons are helping patients at the hospice live well with terminal illness.
The weekly drop-in activities, held at our on-site Limes Day Therapy Unit, have been running since January and will continue until the end of the year. Taking place every Tuesday and Wednesday, they are open to anyone with a life-limiting condition.
Activities so far have included gentle yoga, chair-based exercise, aromatherapy, singing, poetry and arts and crafts sessions; where patients make memory boxes and decorate photo albums.
Expert talks on looking after the skin and scalp during chemotherapy, and make-up and colour therapy tutorials, are helping women with their body image.
Karen Watson, day therapy unit sister, said: "People get a lot of support from each other in these sessions and strong friendships have been made. It's an opportunity to talk in a safe place, with no expectations. Participants don't have to try and be the 'strong one', a mum, daughter, father, brother – or even a patient. They can just come along and be themselves."
Patients attending the Feel Good sessions also have access to advice from a social worker, and colleagues from other hospice departments often drop in to help break down barriers and introduce other services. The patients taking part are all at different stages of their journey with illness; some are newly diagnosed, and some have been living with their condition for years.
Pauline Stones, 56, of Dodworth, was diagnosed with stage four ovarian cancer in April last year and has been taking part in the Feel Good sessions since January. She said: "Cancer can be such a lonely world so getting connected with others is important. It feels like the people here understand what I'm going through. These sessions have really changed my perception of hospice care."
Brenda Davies, 59, of Birdwell, is living with multiple myeloma – a type of bone marrow cancer – and has been attending the Feel Good sessions for the last two months. She said: "I was initially a bit worried about coming because I suffer from anxiety but I'm making friends, which is good as my husband works away so I'm often on my own a lot at home. I've particularly enjoyed the aromatherapy sessions, and I've also enjoyed doing the poetry as it helps me get my feelings out."
The Feel Good sessions have been funded by a £3,090 grant from Tesco's Bags of Help scheme. The activities complement other services available through the Limes Day Therapy centre; including counselling, complementary therapy and advanced care planning. A drop-in group for carers runs from 2 to4pm every Tuesday.
Karen added: "I think people would be surprised to know what goes on in the day unit. We have tears, don't get me wrong, but we also have lots of laughter. It's a place for people to be whoever they want to be that day.
"Many people think a hospice is a just a place for people to come to die, but we concentrate on quality of life before death. We add life to days when days can't be added to life."
The Feel Good drop-in sessions are open to both men and women and run on Tuesdays from 10am to 1pm and Wednesdays from 10am to 3pm. You can simply turn up, without booking, and no referral is needed. For more information, call 01226 244244 ext. 225.
Photo shows The Limes Day Therapy Unit team, L-R: Sue Mason, healthcare assistant; Margot Seal, senior staff nurse; Karen Watson, day therapy unit sister; Dawn Jenkinson, healthcare assistant; Michele Jackson, social worker