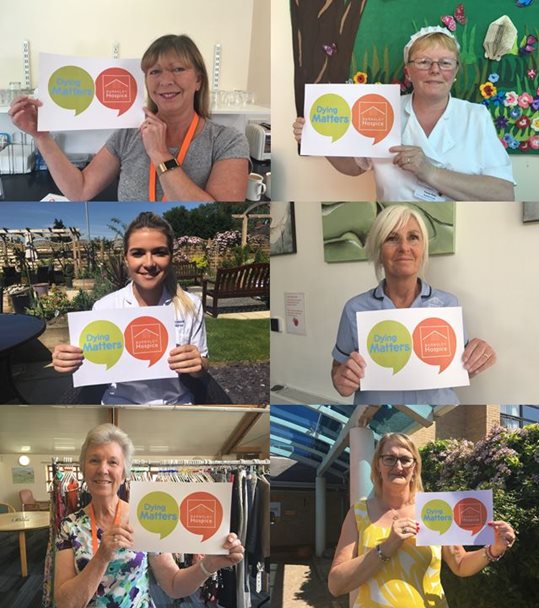 Posted 15 May 2018
Dying Matters Week, a national initiative to raise awareness of dying, death and bereavement, runs from 14th – 20th May 2018.
To get the conversation started, we asked some of the Barnsley Hospice team to tell us why dying matters to them…
Michele Jackson, palliative care social worker
"Dying matters because if you don't speak about the future and when you're not here anymore, how can anyone know what your wishes are, and what you want? It's important because when someone has died without discussing these things, it can leave loved ones in turmoil as they don't know what to do for the best. It can also cause friction between families, when it should be a time to come together."
Jane Ward, staff nurse
"Death is still a taboo, but it's a natural process, not a medical condition. We can't fight against it and we need to make sure we talk about it so that wishes are made known. It's about taking away people's fear of dying too, to normalise death, and to encourage people to have those conversations. We make birth plans, so why not make death plans?"
Margaret Crow, volunteer
"Death and dying is spoken about more these days, but I do think there is a perception that if you talk about it, it will start a chain of events and make it happen. But death is part of life, and it needs to be discussed. When my husband died 11 years ago we did talk about it, and it really helped me that he was prepared to help get everything sorted before he died. It also helped that I was able to talk to him about when he wouldn't be around anymore."
Yvonne Platts, assistant cook
"It's important to plan ahead and make your wishes known for after you've gone. We talk and plan for births, but for some reason, we don't talk and plan for deaths."
Scarlet Andrews, student nurse on placement at Barnsley Hospice
"I've had bereavements in the family but before my placement at Barnsley Hospice I had never actually been involved in conversations about death. I've now seen the importance of planning and communicating and the difference that can make. The pre-bereavement work that goes on at the hospice is really important too as it helps prepare families for the death of a loved one."
Chris Brown, volunteer receptionist
"It's important to talk about dying so that your family know what you want to happen and what your feelings are. A lot of people don't want to talk about it, though. I tried discussing my own funeral with my son and he just said 'stop, it's morbid'. But it's important that we have those conversations. It's also important that you write down plans, and memories, for your family – so that things don't get lost within life."
Why does dying matter to you? Let us know by tweeting us here or commenting on our Facebook page here.