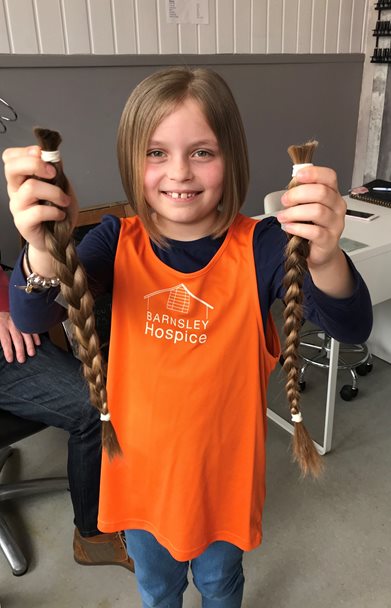 Posted 2 May 2018
Sheffield school girl Sophie Goodwin has had 16 inches snipped from her hair to raise money for the hospice.
Ten-year-old Sophie, who lives on Farnaby Drive in High Green, has generated over £1400 and donated her locks to the Little Princess Trust.
The youngster was inspired to go for the chop after her nan Carole Roberts, who lived in Birdwell, was cared for by the hospice following a terminal bowel cancer diagnosis. She was initially admitted for pain management and after a short spell back at home, spent her final days under their care.
Carole died at the hospice at the end of March and two weeks later, Sophie, who attends High Green Primary School, went through with the cut at the Hair Office in Sheffield.
Her mum Kerry Goodwin, 33, said: "Sophie has been wanting to donate her hair to the Little Princess Trust for two years, but she needed to grow it long enough. She was really affected by Carole, my step mum, being diagnosed with cancer so decided she wanted to raise money for Barnsley Hospice too.
"And she really wanted 16 inches off, to mark an inch for every year she had been together with my dad. Sophie smiled from beginning to end when she was having her hair cut and I'm so proud of her."
Kerry helped Sophie set an initial fundraising target of £100 and when that was reached within minutes of their Just Giving page going live, they decided to aim for £500 instead. The day before Carole died, the page hit £1000 and further donations came in following her funeral.
"We're so pleased to have raised so much for Barnsley Hospice," said Kerry. "I didn't know much about them before my step mum got ill, and I had no idea that people could go in for symptom management and go home again. They were so fantastic with Carole, they made her so comfortable and someone was always there at the push of a button. It makes such a difference to know that your loved ones are being cared for when you can't be with them, and as a family we just want to help in whatever way we can now."
Sam Silverwood, fundraising manager at Barnsley Hospice, added: "We're all really touched by what Sophie has done for us at such a young age. We're so grateful for the support we receive from all corners of the community and it's because of people like Sophie that we are able to continue caring for the families that need us."
You can still sponsor Sophie by visiting her Just Giving page at https://www.justgiving.com/fundraising/kerry-goodwin3.