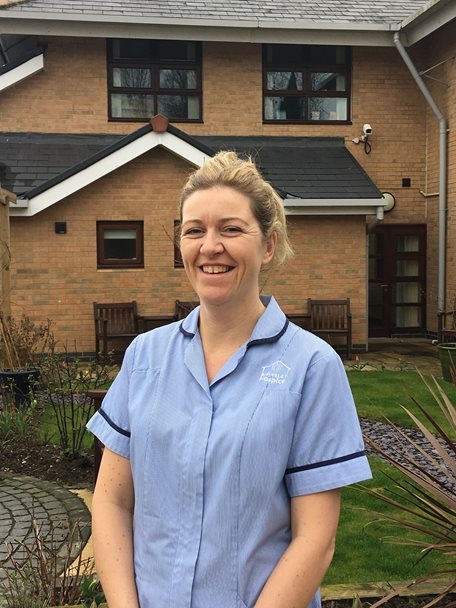 Posted 23 April 2018
A nurse at Barnsley Hospice is flying halfway around the world to take on the challenge of a lifetime for her patients.
Senior staff nurse Julie Fielding will take part in the Great Wall of China Half Marathon on 1 May to generate income and raise awareness for the hospice.
Julie, 40, lives in Monk Bretton and has worked at the hospice for 17 years, joining just days before the opening of its in-patient unit in 2001. She is using the Beijing event – which is also in its 17th year – to raise money for patient care.
The half marathon includes 5008 steps and elevation of over 1200 metres, so as well as making use of the hills of Monk Bretton, Julie's training has included running up and down her stairs and using a step machine at home.
She said: "I'm nervous about the challenge, but I'm determined to complete it. I'll be wearing my Barnsley Hospice vest with pride and thinking about the patients and families who inspire me every day.
"For the last 17 years I've seen first-hand the difference the hospice makes to the community, but I also know how much it costs to run, which is why I'm trying to raise some money too."
Julie, who has 11-year-old twin boys, is taking on the challenge with her friend Jennie Higgins, who lives in Beijing. Jennie is originally from Barnsley and her mum, Pam Higgins, also works at the hospice.
Julie caught the running bug a few years ago, after joining a Barnsley Harriers 'walk to run' group. The following year, she completed the Great North Run in Newcastle.
"The idea to do a half marathon in China initially started as a joke, but it became a reality over cocktails at Christmas. Although I'm an experienced runner, the enormity of the challenge is still sinking in to be honest. There are so many steps, and the average finish time for a woman is five hours. But I see all the amazing things that our supporters in the community do to raise money for the hospice and I want to do my bit too."
Julie added: "The training has been tough, but in a way, it's also been helpful – as although working in palliative care is rewarding, it can be difficult at times. Running helps me process and clear my thoughts."
To sponsor Julie, visit www.justgiving.com/fundraising/julie-fielding2