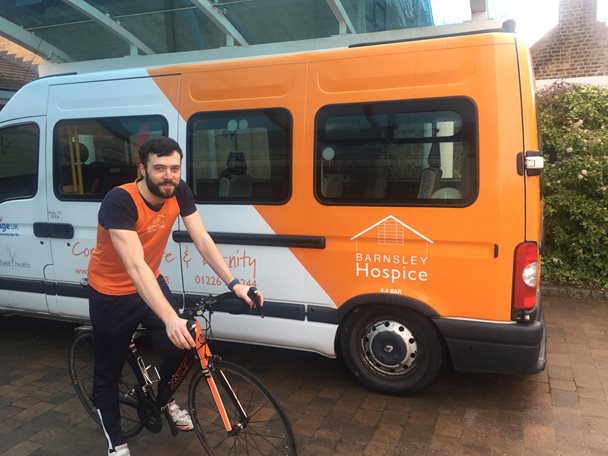 Posted 12 April 2018
A South Yorkshire English teacher is swapping literature for lycra to take on the Tour de Yorkshire sportive next month in support of the hospice.
Craig Fletcher, 31, lives in Dodworth, Barnsley and teaches at the town's Horizon Community College. On Sunday 6 May he will complete the Maserati Tour de Yorkshire Ride, taking on 120km of the final stage of the iconic race around Leeds – before the professionals.
Craig, who is using the event to raise money for the hospice, said: "This will be the longest ride I've ever completed. But being from Barnsley, I see the fantastic work the hospice does within our community every day and I want to play my part in ensuring their priceless support and care can continue. I am very passionate about Barnsley and take great satisfaction in giving something back to the community."
Craig has been training for the sportive by cycling to and from work every day and taking on longer distance at weekends. He will be cheered on by his wife Vicky and children Rosa (three) and Luca (one).
Bethan Gledhill, community fundraiser at Barnsley Hospice, said: "Craig's been training really hard and we're so grateful for the efforts he is going to in order to raise money for our patients. Our care couldn't continue without people like him taking on personal challenges and doing their bit to support our services. We wish him, and all the other riders taking part in the sportive, the best of luck."
The Tour de Yorkshire passes through Barnsley on Friday 4 May, before crossing other parts of the county over the weekend.
To celebrate the tour coming to Barnsley, a stationary bike will be placed in the reception of the hospice in Gawber from Monday 30 April – Friday 4 May, and staff are appealing for supporters and businesses to sign up to keep the pedals going between 10am – 3pm every day. To book your slot, call 01226 323613 or email bethan.gledhill@barnsleyhospice.org.
To sponsor Craig, visit www.justgiving.com/fundraising/craig-fletcher9.